This past weekend, AJ Berge, owner and tuning mastermind of Hemituner Performance became the first person to put a modern Dodge Charger in the 7-second quarter mile range. Berge set this remarkable record during a private track rental at Orlando Speed World Dragway and not only did he run the first 7-second quarter mile by a modern Dodge Charger, but he ran back-to-back 7s, backing up his record number.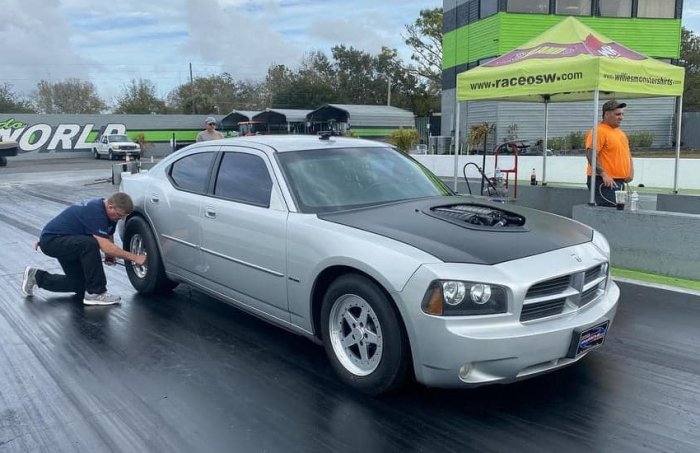 Berge is very well known in the world of modern Hemi performance, with his shop, Hemituner Performance, serving as one of the top tuning options for late model Hemi-powered vehicles. Berge has been on the forefront of the modern Hemi tuning program since these engines hit the street and over the years, he has been involved with many record-setting builds. Although he is primarily known for his tuning, Berge also does some racing of his own with a variety of very quick Mopars. In fact, he made his first pass in this silver Dodge Charger back in October of 2010, running a 14.3 at 97 miles per hour in what we can assume was near-stock form. Just over 10 years later, that 14-second sedan became the first modern Charger to run a 7-second quarter mile.
After hearing of AJ Berge's phenomenal record, we reached out to him for details on this car, its history and what went into becoming the first 7-second modern Dodge Charger sedan. Below, you will find the story in his own words.
The Hemituner Charger
So, after the events that transpired yesterday, I am compelled to share with everyone the story behind the path to our FIRST IN HISTORY 7 Second pass for a modern Dodge Charger. With this accomplishment this car has now become a time capsule of Modern Hemi progress filled with the history of the parts, people, and lessons learned over the last 15 plus years of the platform.
For those who do not know the history, I purchased this car in 2010 during my tenure at Arrington Performance. At the time I really wanted a 2007 but this 2006 was all I could afford; everything happens for a reason.  My wife Anastacia found this car for me in Louisiana and Eddie at SHR was nice enough to open his shop up to me so I could look at it. I met his family, we had dinner, it was a good time. Even in 2010 we were only 4 years into this platform with so much to learn, who knew it would take us all the way here today!!
At that time MSHS was in its infancy and I set my sights on the popular Stroker class. With the support of Arrington and the amazing brain trust we had there, we built and developed the 440 inch platform winning many races and resulting in 2 back to back MSHS Championships in 2011 and 2012 before selling the car in 2013. I remember Josh at HHP spending a huge amount of time helping me with wheels and tires that would fit because after only having the car a few weeks I had no idea what was even available, Those HHP Bogarts are still on the car today!!!! Nick from ARH had an idea, NEW CUSTOM Stepped Header, and a New exhaust system… top shelf stuff all new to market. How good do you ask?? Its still on the car TODAY in 2021!!!!!! Back then the NAG 1 was the only option, and in the rear, we had the popular 8.8 conversion. Frank at Driveshaft Shop was the brainchild relentlessly working on developing axles and driveshafts that he never thought we could break, but the Monday morning calls of carnage exposed the hard truth of "WELL that didn't work." Again, just like today, Frank and his team never stop improving even with bumps along the way. The carbon Shaft in this record run proudly carries the DSS name!  Jim@Truestreet Performance, took over the Hemishop in 2010, a division I built at the dealer where I was a Chrysler Master Technician. He grew the business there and I was handling support and tuning duties until He left the dealer in 2013. Fast forward to 2015 we were teamed up full time under the same roof. This is still true today at our NY shop.
In 2018, after returning full time to our Hemi Platform after 3 years in NHRA Pro-Stock my good friends Tim Barth, Joshua Schwartz, and Bruce Maichle helped me fast-track into Hellcat life. Approximately 2 years later, A few Redeyes, Demons, And Hellcats working together, were able to do pretty well in making these cars get deeper and deeper into the single digit ET range at unheard of weights, but for me I wanted more. I saw an ad on FB for my old car. I showed it to Anastacia, and she said, " Wow, that would be neat to get that car back." She didn't have to twist my arm!
It is now Sep 23, 2020, I proudly loaded the car into my trailer and thought well, the car that started it all is going to end it all. From that day it was my mission to be the FIRST to break the 7 second barrier with our 4 door Challenger counterparts. It wasn't going to be easy as more than one car was out there in the hunt and they for sure had a much stronger head start, not to mention an entire season of unbelievable weather ahead! The date was Oct 9, 2020, Time to see if I could get back in the groove with the old girl. I remember lining up for my first pass at the very track I made my final pass in her some 8 years prior. It was a slow pass by today's standards but after reviewing the slip it was .000 on the tree and the 10.2 it ran was exactly where I left off in 2012, it fit like a glove!
It's now OCT 23 2020, the concept is simple. We are going to take the very first late model L-Body car and update it with the absolute best parts that have been developed over the 15 years for the platform. The team was assembled, and we went to work! Myself, Jim Kane, a Championship winning Promodified crew Chief, Ken Walther a valued client and friend, and Jim, with his entire True street crew. Gary Rudy would be joining us at the track helping to line the beast up and adjusting our shock settings to get the most out of any track condition. The powertrain selection was finalized. The engine was not to be exotic, something that we have been using in our in our customer's Hellcats. Thitek ported Demon cylinder head, Hellcat based 426 with a custom camshaft topped off with our billet valve covers and the mother of all superchargers, the brand new 3.0 Dragpak Whipple. Getting the power to the ground would be handled by a Rossler TH 400 with a custom converter. The Driveshaft Shop team designed and built a 1-piece carbon driveshaft to mate up to our Billet Case Hellcat Replacement Differential that we bolted into a brand-new Hellcat rear cradle. Custom Billet adjustable control arms, Reed Motorsports/Menscer Coil-overs, and a set of G-Force 1400 HP axles finished it all off giving us the strength and adjustability we needed to get to our goals. The last piece of the puzzle for some extra insurance was a custom Nitrous Outlet single nozzle setup that we would control with our Holley Dominator engine management system!
We wanted to also give a special thank you to Dustin Whipple, Alex and Chris Martin at Better Built performance, Eddie at Select Racing Transmissions, Devin from IMS, Joe Rivera from Pro-Torque, and Carl Rossler . We are blessed to have the best in the business behind us as we continue to push the platform to new levels!
The Record Run
In the videos below, you can watch AJ Berge become the first modern Dodge Charger driver to lay down a 7-second quarter mile pass. On the first pass, he runs a 7.98 at 172 miles per hour with a density altitude of 2,076 feet! No crazy negative DA for these runs, so with better conditions, this car could go even faster. Berge actually proved that later in the day, backing up his 7.98 with a 7.97 at 173 miles per hour.
The first video shows the 7-second runs from a variety of angles while the second provides two different camera angles from inside the car, allowing us to ride along in the 7-second Dodge Chagrer. Thanks to Gary Rhudy for putting together these videos!
Congratulations to AJ Berge and everyone involved with this record run. We may see quicker modern Dodge Charger quarter mile times, but there will never be another first in the 7s.