American cars are typically bigger than wanted in the rest of the world, where fuel costs tend to be higher; so the Plymouth GTX and Dodge Polara didn't make it to most of South America (at least not in any serious volume). Instead, Chrysler's South American divisions and companies had a single American car platform—the A-bodies, sold in the US itself as the Valiant, Dart, Duster, Demon, and pre-1970 Barracuda.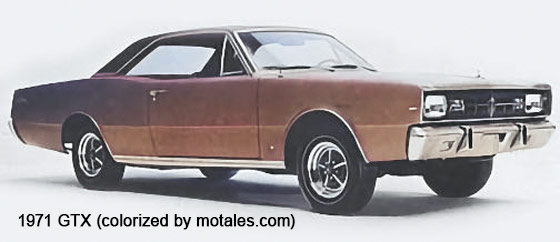 The Valiant was all very fine, but didn't cover the whole market. As a result, South American dealers decided to adapt the car to sportier and more luxurious segments, taking names from bigger American cars; that brought the Polara, Coronado, Super Bee, and GTX. (Never mind that two of these names were taken from Plymouth; all were sold under the Dodge name.)
These weren't sticker packages; the sheet metal and fascias were changed to make the cars look more like 1968 Chargers than 1968 Valiants or Darts, and they were based on the sportier first-generation "narrow body" Valiants.
The Valiant had arrived in 1962 with a manual transmission and 225 slant six, with some extra frills. The Polara had more features and "luxury" items. In 1965, the high-end Coronado made its debut; then the Valiant III GT with dual carburetors on the slant six. A floor shift arrived in 1966 with the Valiant IV, which had a two-barrel carburetor instead of twin single-barrels.
The Dodge GTX arrived in 1970, with a choice of twin-carb slant six or 318 V8 coupled to a four-speed manual; 0-62 mph with the 318 took 10.2 seconds.  The GTX was meant as an executive car—a sporty luxury coupe; and it was only made in Argentina.
Chrysler Argentina closed its doors at the end of 1979; but the Dodge GTX became much more visible in the 1980s, as they were raced in the Turismo Carretera class. They won eight of ten championships, credited to their reliability, torque, and aerodynamics.