Ram, probably the main profit driver of Stellantis in North America, has been increasingly popular thanks to its "new-plus-old-generations" sale strategy. In the future, though, electric power may be the key to success; and Ram is apparently set on staying relevant, without losing its character.

The cutaway in the Ram EV Day presentation shows a 2008-Dakota-like front and rear bulge, with with more elegant lines and a front that seems influenced by Dodge and Chrysler
By 2024, when production is scheduled to start, electric pickups will be old hat; Ford will have one (update: production started in April 2022), with help from Rivian; GM will have one (update: in 2023, shown in 2022); Rivian will have had one for quite a while; Bollinger's will have been out for a while; and, if it survives, the Lordstown Endurance will have been on sale. Indeed, there's a whole field of electric pickups.
We don't really know anything about the electric 2025 Ram 1500, but what we do know comes from the Stellantis EV Day earlier this month, which is, in essence:
Ram is claiming to have a "no-compromise" solution with full capability, rather than a drag-racing queen; range and capability will be more important than 0-60 times (0-60 will likely not be in under five seconds)
Onboard power will be provided (as it was by past Ram hybrids only sold to fleet buyers, years ago)
Towing and payload will both be key to the design, suggesting that the range with towing could be 250 miles, with an overall range of 500 miles—perhaps with an optional battery-pack upgrade
The battery capacity will be from 159 to 200 kWh (an odd range, suggesting that the low end has already been determined)
Fast charging will be provided for up to 150 kWh
There will, as is de rigeur now, a charge station locator, dynamic range mapping, trip energy prediction, smart charging, and a variety of drive modes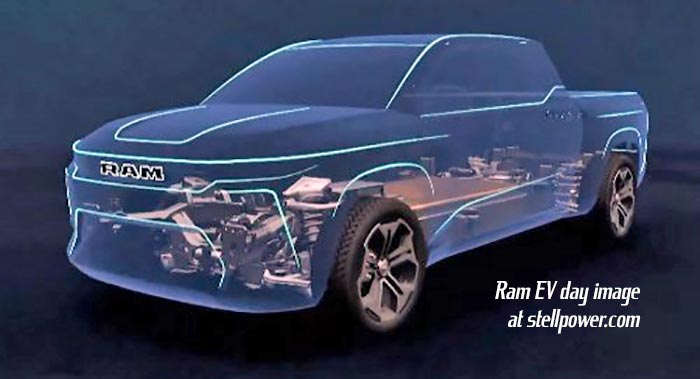 Presumably, a Wagoneer could share the same body shell, but with different priorities for acceleration vs towing/hauling.
Stellantis is not kidding about its sudden pivot into battery-electric vehicles; a good deal of work has gone into arranging for battery and lithium supplies, and it appears that engineering which has been going on for years at both FCA and PSA will be put into production.
Still to be answered are questions such as where the various EVs will be built—will they use current plants or build new ones? Will plant sites be repurposed, as Mack Avenue's twin engine plants were converted to a single assembly facility?—and when in 2024 we can expect this Ram. Stellantis has maintained the former FCA's ability to keep secrets better than Chrysler itself did, so some of these answers may be a long time in coming.
Here are other pickups' battery capacities, as far as we know:
Rivian: 105 to 180 kWh, claimed range 230-400 miles (for a smaller pickup)
Bollinger: 120 kWh, claimed range 200 miles
Havelaar Bison: 40 kWh
Tesla: 120 or 160 kWh
Atlis XT: 125 kWh and up
Alfa Wolf: 75 or 85 kWh
The low end, 159 kWh, is quite high and was likely specified for towing, which hits gas mileage in existing trucks as well as battery range in future trucks.