The Hellraisin 2020 Dodge Challenger SRT Super Stock shown here is owned and driven by Ron Silva. Silva was one of the first 2018 Demon owners to get into the 9-second range while routinely being one of the quickest stock Demon owners on the track. Silva has sold his Demon and moved onto the gorgeous Challenger Super Stock below and he is already turning out impressive numbers. In a car that Dodge claims will cover the quarter mile in 10.5 seconds, Silva laid down a pair of high-9-second runs becoming the first Super Stock owner to run in the 9-second range while setting the bar for other owners who plan to spend time at the drag strip.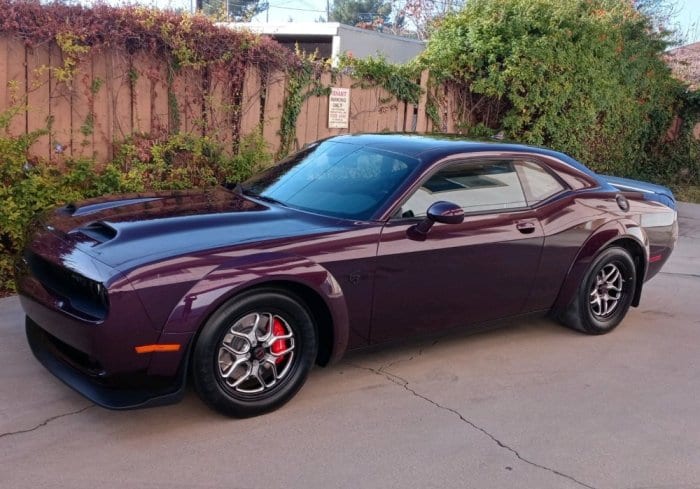 Details on this Super Stock
Ron Silva's 2020 Dodge Challenger SRT Super Stock is not completely stock, but it is close. The stock wheels and Nitto tires have been removed and in their place, Billet Specialties Win Lite wheels are wrapped in Hoosier rubber. The rear tires offer better grip than the Nittos, the front tires weigh less than the stock tires and all of these wheels weigh less than the stock wheels. The only other change from stock is the removal of the front passenger's seat. Silva's car came without a rear seat, so it is configured similar to a one-seat Demon in the video below.
Finally, while this Challenger is running all stock engine components and a stock engine tune, Silva uses Sunoco SS100 fuel at the track to make sure that low-grade 93-octane gas doesn't cause the engine to pull any power. In short, the high octane fuel helps to ensure that the Super Stock is making all 807 horsepower and 707 lb-ft of torque.
The Record Run
Ron Silva headed to Houston Raceway Park on January 9th with the hopes of laying down some big numbers in great air. His first 9-second run came that morning with a 9.965 at 136.15 miles per hour. Later that afternoon, he backed up that first 9-second run, stopping the timers with a 9.9.56 at 136 miles per hour. That run is shown from the in-car camera below, allowing us to ride along for what is currently the quickest Super Stock quarter mile time in the world. On the 9.956 run, Silva pulled a 1.411 60-foot time and got to the 8th mile in 6.352 seconds at 108.96 miles per hour – all with a Density Altitude of -547 feet.
Congratulations to Ron Silva for being the first Dodge Challenger SRT Super Stock owner to run in the 9s. You can follow all of his racing progress on his SRT Demon Facebook page by clicking here.