When Stellantis showed its new technologies on Software Day, the key example was a new Chrysler Airflow concept, showing a streamlined version of the Pacifica/200 styling. Those worried about how well the Mopar brands will fare under Stellantis may be relieved somewhat by a look at the sample cars in the future platforms graphic:
The Challenger and Ram show up as examples of Large and Frame. Recently, we noted that a future Challenger appears to be under development, with likely production remaining in Brampton, and bearing a new turbo engine under the hood.
The 2021 Chrysler Airflow concept shown off by Carlos Tavares and other Stellantis executives would breathe life into a moribund brand, now consisting solely of a minivan (sold under two names with nearly identical styling) and a large sedan which is very similar to the Dodge Charger.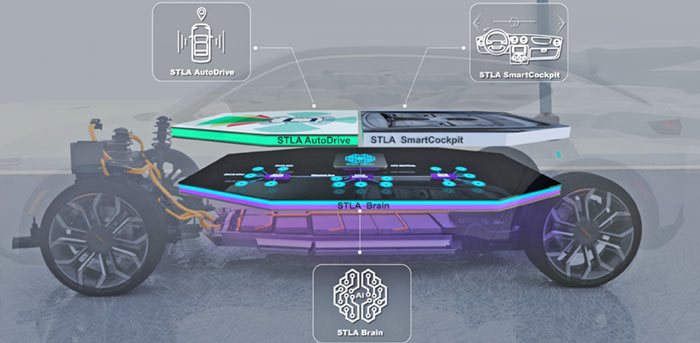 The Airflow was also used in a cutaway diagram; though it was largely designed to show how the SmartCockpit and AutoDrive systems layer onto the chassis, it also revealed that Stellantis appears to be using a "skateboard" concept for its BEVs, which would allow a single basic chassis to be adorned by several different "top hats." Rivian uses this engineering setup to produce special Amazon vans, pickups, and ordinary cargo vans with the same chassis; for a time rumor had the Ford F-150 Lightning sharing the same chassis.
The crossover, according to Tavares, is "closer than you think, and more than a pure concept," a good sign for Chrysler—as was the appointment of Christine Feuell to lead the brand.
In addition to the first important new Chrysler concept since the Portal, Stellantis announced that they would launch a Level 3 autonomous driving setup in 2024, and would then roll it out "across the full portfolio in the years to come." Alfa Romeo, DS, or Maserati is likely to get it first; the plan slide showed an Alfa Romeo. BMW is doing Level 3 cars starting next year, with the 7-series; the companies are sharing technology along with Mobileye and Intel, the result of a 2017 partnership including Fiat Chrysler.
Walter P. Chrysler's great-grandson Frank Rhodes seems to approve of the car, though he'd prefer for the lighted panel in back to say "Chrysler" or "Chrysler Airflow" rather than just "Airflow," and felt the Chrysler name should appear somewhere on the other than in small print in the blue wing badge on the front.