The Windsor Assembly Plant, original and current home of the Chrysler minivan (and, at the moment, nothing else) has won the Association of Energy Engineers' Canada Region Energy Project of the Year Award, for cutting the paint shop's energy use by 8%. That is enough to save 20,250 gigajoules per year—or about the same as taking 490 houses off the grid.
The energy savings were part of a project on optimizing the topcoat layer.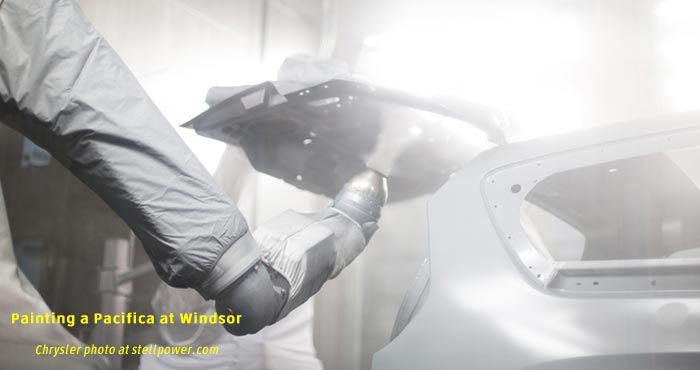 It takes around 27 hours to build each minivan, and around 9 of those hours are spent in the paint shop (new minivans roll off the line every 48 seconds). The plant's energy management team saw opportunities there, and in November 2019 they confirmed that the downdraft air flow could be improved in the three paint booths. These three booths are supported by 18 air houses pumping in fresh air and 20 exhaust fans; the temperature is maintained at 62°F, with a specific downdraft rate. The team was able to reduce the rate of fresh air intake without changing the plant's quality or performance.
The end result is not just an energy savings, but also a rebate from the local utility, helping to keep the price of those Voyagers, Grand Caravans (Canada-only Voyagers), and Pacificas down.