The 2022 Chevrolet Silverado pickup's turbocharged 2.7 six-cylinder engine has gotten a power bump, to 310 horsepower and 420 pound-feet—an hefty increase over its 2019 rating of 348 pound-feet.  This engine is replacing the old 4.3 liter V6 and the 5.2 liter V8 alike (the 4.3 was rated at 285 horsepower and 305 pound-feet of torque).
As Chevrolet's base engine, the 2.7 easily beats Ram's Pentastar 3.6 liter V6, which to be fair is naturally aspirated.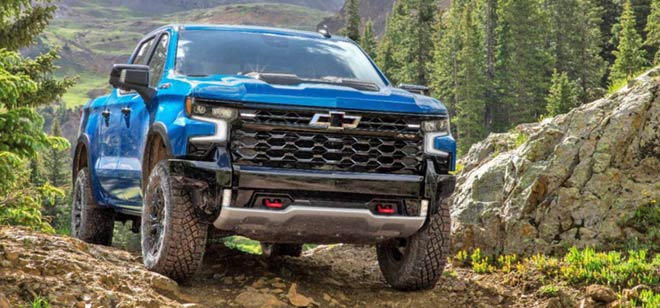 Chevrolet's smallest V8 produces 355 horsepower and 383 pound-feet of torque, well below Hemi levels; the 6.2 liter engine, with 420 horsepower and 460 pound-feet of torque, is well over the 5.7 Hemi albeit not in the same class as the TRX's supercharged Hellcat. Finally, going up against Ram's VM diesel is GM's Duramax, producing 277 horsepower and 460 pound-feet of torque, vs the Ram/VM diesel's 260 horsepower and 480 pound-feet of torque.
An EV version will be shown off at the Consumer Electronics Show in January.
GM transmissions have eight or ten speeds, with the eight speed reserved for the base engine and all others getting the ten-speed. Ram uses eight speed automatics. It's unclear that a ten speed has any advantage in this application.
For reference, Ram's base engine produces 305 horsepower and 269 pound-feet of torque, while its 5.7 Hemi is rated at 395 horsepower and 410 pound-feet and is fed with 89 octane fuel. The Hellcat, available only on Ram TRX, produces 702 horsepower with 650 pound-feet of torque.
Chevrolet pickups have fallen behind in the sales race; while remaining #2 behind Ford, Chevrolet has lost market share to Ram in recent years.