The Dodge didn't use the 2021 SEMA Show to showcase any new products, instead modifying a 2020 Challenger Scat Pack Widebody with a vintage muscle car theme. Inside and out, the Dodge Challenger Holy Guacamole Concept has a distinct 70s vibe with all of the modern performance and infotainment technology of the modern muscle car.
"The Dodge Challenger is every bit as beloved and relevant to today's muscle car enthusiasts as it was 50-plus years ago, and the Dodge Challenger Holy Guacamole concept combines the best of both worlds," said today's press release. "Taking the 2020 limited-production Challenger R/T Scat Pack Widebody 50th Anniversary edition and giving it a throwback treatment from the 1970s showcases the ultimate in heritage design and modern Dodge attitude."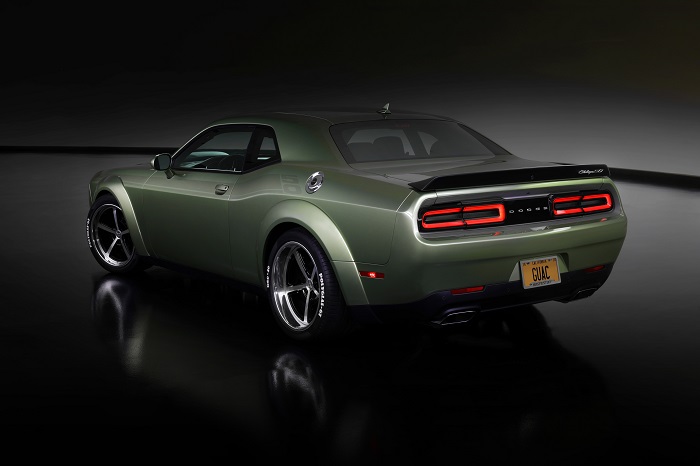 Dodge Challenger Holy Guacamole Concept Exterior
The Challenger Holy Guacamole Concept begins on the outside with a unique green paint color, which the design has "affectionately" named Rotten Avacado. Providing contrast against the dark green body is a custom-painted Shaker hood scoop in "Gold School" and there is also a dark green body stripe that is just a shade off of the rest of the body.
The exterior look of this classic-themed 2020 Challenger Scat Pack Widebody 50th anniversary edition car is completed with a set of staggered 20-inch Forgeline wheels while a Mopar coil-over lowering kit provides a sportier stance.
As a unique touch, the 20-inch tires are labeled as they would have been back in 1970, with the front tires being E60-20 while the rears are G60-20. The tires also say "Polyglas-GT", but we are betting that they didn't actually make 20-inch polyglas tires for this concept car.
Under the Shaker hood, the 392-cubic inch Hemi is fed by a Mopar cold air intake package featuring a conical air filter, providing the smoothest air flow to the hungry engine.
Classic Plaid Cabin
Back in the 1970s, it was common for a hot muscle car to have a multi-color plaid interior package, so to give the Dodge Challenger Holy Guacamole Concept the vintage interior feel, this car has green-and-yellow plaid inserts on the seats and door panels, along with wooden trim on the dash and center console.
Really, the exterior doesn't look all that out of place, as many modern Challenger owners modify them to have more of a vintage look, but this interior is truly a work of art.
We don't foresee this wild interior coming to market anytime soon, but there is no question that it succeeds in hammering home the 1970s feel.
The Dodge Challenger Holy Guacamole Concept will be on display in the Mopar area of the 2021 SEMA Show in Las Vegas, running from November 2nd through the 5th.