This past weekend, many of the top Mopar drag racers headed to Beechbend Raceway Park in Kentucky for the Holley Moparty and among them was the Dodge Challenger SRT Hellcat known as "Grumpy Cat". Owned and driven by Kevin Helmick, this heavily modified Hellcat Challenger recently claimed the world record for the quickest car in the world with a factory Hellcat VIN when it ran a 7.07 quarter mile, but at the Moparty – it went even quicker.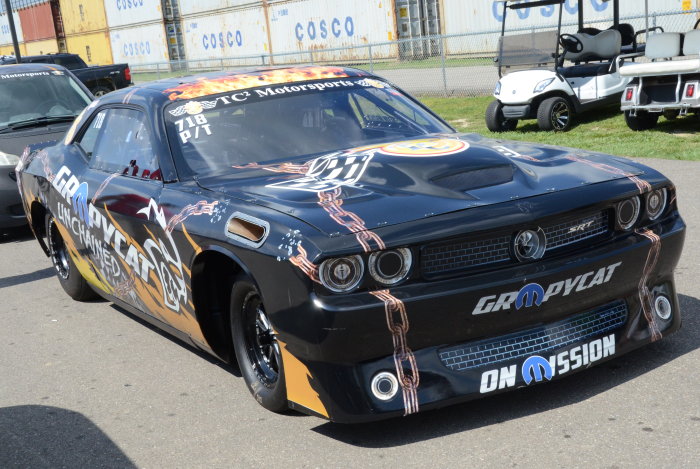 On his first and only pass of the event, Helmick ran a 7.019 at 199.46 mile per hour. A personal obligation forced him to head out early and the rain ended up hampering the racing fun, but GRMPYCAT made the most of that one run. Thanks to Dodge Challenger owner and racer Jess Richards, we have a great trackside look at the run, which you can check out below. As you can see, it was a nice, straight A-to-B pass, which is exactly what you want to see when trying to get into the 6-second quarter mile range.
On this run, the heavily modified Dodge Challenger SRT Hellcat pulls a 1.152 60-foot time, allowing Helmick to get to the 8th mile mark in just 4.595 seconds (162.7 mph) and on the big end, he stopped the timers with a 7.019 at 199.46 miles per hour. Again, while this car is heavily modified in just about every way, this car began life as a production Dodge Challenger SRT Hellcat.
Details on the World's Quickest Hellcat
Now, you are probably wondering what all goes into getting a Dodge Challenger SRT Hellcat to run a 7.01 quarter mile at just below 200 miles per hour. As you can imagine, the list of upgrades is extensive, so rather than go through it all, click here for a list in our previous piece about GRMPYCAT. As for the name, while the car is commonly called Grumpy Cat on social media, it is technically GRMPYCAT, with the M being the rounded Mopar M logo.
I spoke with Kevin Helmick this morning and he told me that "she has plenty left" and he believes that within the next week or so, this turbocharged Dodge Challenger will run in the 6 second quarter mile range with a trap speed of more than 200 miles per hour. When that happens, you can be sure to find the news here on Stellpower.