Is Dodge Law Enforcement giving us a hint about a future new vehicle, by featuring a brushfire-fighting Wrangler conversion from Reiselt's Machine Works?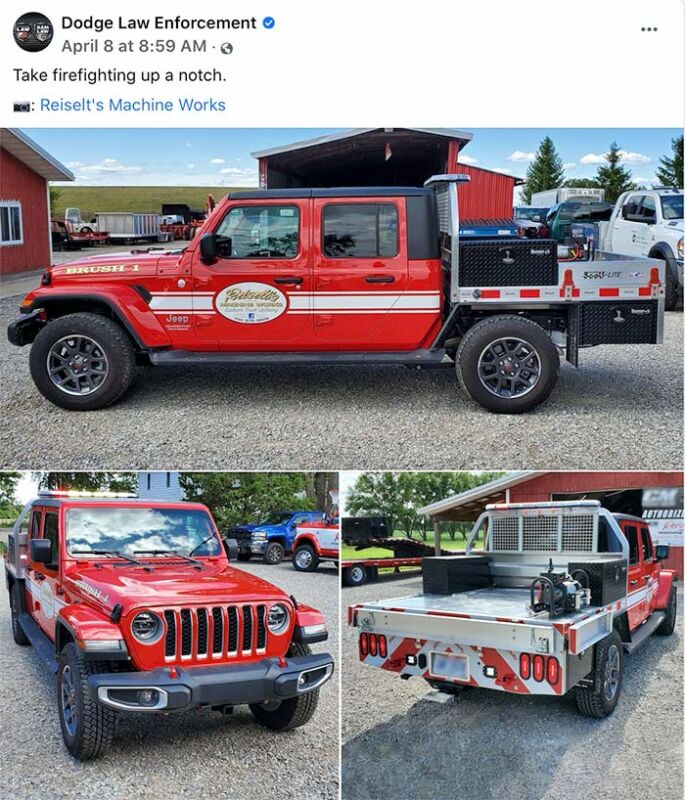 The idea of a customized law enforcement or fire-fighting Wrangler is perhaps long overdue. The old Dodge Power Wagon was often converted to firefighting duty, but not by Dodge itself.
The company currently has three cars for police: the pursuit-rated Dodge Charger, along with the Dodge Durango—now featuring a column shift to go with the special brakes and suspension—and the Ram 1500. Pete Kranz pointed out that they also have two for fire/EMS/forestry services: the Ram 2500 and Ram 3500 SSV. "Both now share some of the Charger and Durango Pursuits' upfitting equipment (VISM, factory spotlights, police harnesses)."
A Wrangler specially outfitted from the factory would be handy for fire companies with large swaths of wilderness to cover; and would likely be much cheaper than ordering one from the highly estimable Reiselt's Machine Works. In the past, Jeep has worked with aftermarket outfitters, e.g. to create the first factory Wrangler pickup conversion kit. There was also a Jeep police package in the past—though it was the unibody Jeep Cherokee XJ, and seemed more popular in on-road service.
So is Jeep going somewhere with this, or was Dodge Law Enforcement just giving a quick salute to one aftermarket outfitter? Let us know if you know; otherwise, only the future will tell.