Late last month, James Golden piloted his F8 Green Dodge Challenger SRT Hellcat Redeye down the track in just 7.904 seconds, making it the first 7-second quarter mile pass by a Redeye car. Of course, Golden's Challenger Redeye is heavily modified, as is any production road car that has been massaged to run in the 7-second range, but among the many Redeye racers – James Golden is the first to get a 7-second time slip.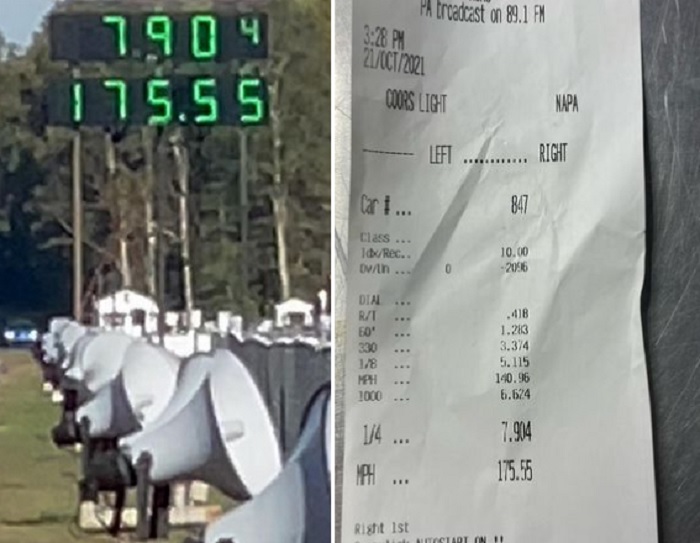 For those who might recognize his name, James Golden is the guy whose Dodge Challenger caught fire on Woodward Avenue during the Dream Cruise a few years back. This is the same car, having literally risen from the flames to become the quickest Redeye car in the world. In fact, Golden and his F8 Green Challenger have stood atop the Redeye leaderboard for some time now, but with his 7.904, he is the first Redeye owner to run in the 7s.
What Goes into a 7-second Challenger Redeye
If you are unfamiliar with James Golden's Dodge Challenger SRT Hellcat Redeye, here is a quick look at its history.
This car began its life as standard example of the Dodge Challenger SRT Hellcat Redeye, built on the Brampton Assembly line with 797 horsepower. Shortly after getting the car, Golden got the bug to go drag racing, so he had the car modified a bit for extra power. He got down into the 9-second range, but while doing a burnout at the Woodward Dream Cruise back in 2019, the engine failed and the car caught fire. Golden got out safely, but the car required extensive repairs to get back on the track.
Fortunately, after the blown engine and fire, Golden began working with AJ Berge – one of the pioneers in the world of modern Hemi performance. Berge is the man behind the curtain at Hemituner Performance, and when he isn't building and tuning cars like Golden's, he is tuning the Don Schumacher Racing Challenger Drag Pak team cars. In short, Berge literally wrote the book on tuning a modern Hemi engine, so after tuning issues led to the demise of his first engine, Golden headed down the path to success with the original "Hemituner".
At first, Golden stuck with the factory supercharger layout, but over time, he swapped to a pair of 79mm turbochargers. The engine has been enlarged from 6.2 to 7.0 liters and fitted with a Winburg crankshaft, billet Callies connecting rods, Ross pistons, ThiTek cylinder heads, a custom Comp Cams camshaft and a custom Hogan intake manifold. With the tune from Berge, this Challenger makes somewhere just south of 2,000 horsepower, with a Rossler 3 speed turbo 400, a carbon fiber Driveshaft Shop driveshaft, a Strange rear differential with a 3.50 Detroit TrueTrac setup and Driveshaft Shop axles working together to put the power to the ground. Golden runs Menscer suspension components, Weld wheels and Mickey Thompson tires.
Of course, there is also a ton of safety equipment that goes into a car like that, including proper brakes to handle the weight and speeds, a parachute and an elaborate safety cage. Also, James Golden has made many passes in this car, and seat time plays a major role in getting a car down the track in 7 seconds.
Setting the Bar
Back on October 21st, James Golden and his F8 Green Challenger Redeye headed to Maryland International Raceway for the East Coast Moparts Modern Street Hemi Shootout event weekend. He would be the runner-up in the tightly contested Diablosport & Holley HEMI Outlaw Class, but more importantly, during testing for the event, he became the first Redeye owner to make a 7-second quarter mile pass.
In the video below from the Redeye.Racing Instagram channel, you can watch and listen as Golden sets the bar for all other Dodge Hellcat Redeye owners. With a 1.283 60-foot time and 8th mile fractions of 5.115 at 140.96 miles per hour. This F8 Green Challenger stopped the quarter mile timers with a 7.904 at 175.55 miles per hour.
Since then, Golden has made a handful of other 7-second passes, but for now, the 7.904 is his personal best and the standard Redeye record. It should also be noted that while running an 8th mile King of the Street event, Golden and his Redeye ran a 4.976 at 142.43 miles per hour. Had he run that pass out to the quarter mile, it would have been at least in the 7.80s, if not the 7.70s, showing that this Challenger has quicker quarter mile times in it. Also, while running at a World Cup Import-Vs-Domestic event which required a 275 rear tire, Golden was still able to run a 7.964 at 171.49, so even on a small tire – this car is crazy quick.
We are sure that we will eventually feature Golden and his Dodge Challenger SRT Hellcat Redeye once again, but for now, he stands as the quickest Redeye owner in the world with a 7.904 at 175.