A few weeks back, we discussed Billy Weber's Ram 1500 TRX, which was the quickest of its kind, setting the quarter mile record with a 10.33 at 133.92 miles per hour. This past weekend, Weber was back at the drag strip with his Hellcat Hemi-powered half-ton and this time, he went even quicker. Not only did Weber reset the Ram TRX quarter mile record, but he also became the first TRX owner to break into the 9-second club.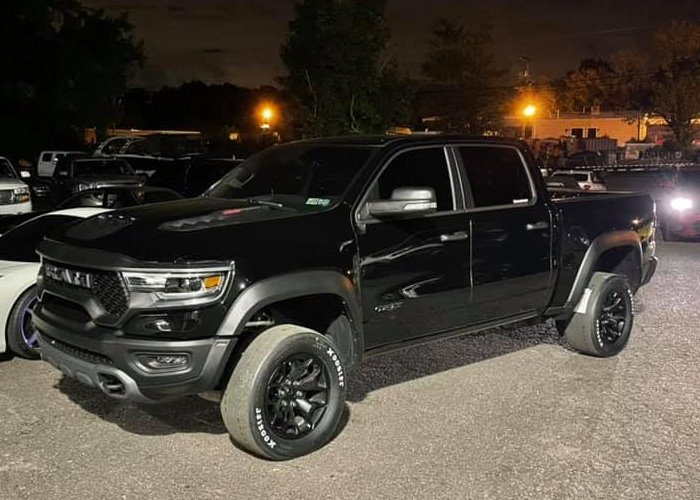 To be more specific, Weber's 2021 Ram 1500 TRX with relatively simple power-adding modifications, a few basic weight reduction efforts and a good set of track tires ran a 9.90 at 136.86 miles per hour.
Billy Weber's Ram TRX
In case you missed the previous articles on this Ram 1500 TRX, here is a quick rundown of what was done to the truck when he ran 10.33 last month.
The IHI supercharger on this truck has a snout that was ported by Kong Performance and fitted with a 108mm Kong throttle body. It also has a 2.65-inch upper pulley, a 10% lower pulley, a set of ID1700 fuel injectors, a custom cold air intake, a 180-degree thermostat, a nitrous oxide system and a custom E85 tune by Meesh-Tuned. All upgrades were performed by Labworx.
That was the full list of upgrades done to Weber's Ram TRX when it ran 10.33, but before heading to the track this past weekend, he made one big-yet-simple change. He removed the big, heavy off-road tire-and-wheel package and replace it with a set of four 325/45R18 Hoosier drag radials. Not only were the off-road tires a limiting factor on putting power to the ground, but they are heavy and – more importantly – they are not designed to go 135+ miles per hour. This setup leads to better traction, less effort on the engine and it is safer.
He also removed the underbody skid plates and the running boards to help knock some weight off of this beast, but the key change here is the tire. That change paid off big time.
It should be noted that today, Weber's 9-second TRX was on daycare duty, sporting the off-road tires for daily driving use, as shown above.
First in the 9s
On the first run of the day, Weber ran his TRX without the nitrous and in doing so, he reset the blower-only record with a 10.43 at 127. He backed that up with a second blower-only run of 10.43 at 130.
For the third run, he used the nitrous setup and that was when the big TRX became the first to run in the 9s. With a 150-shot, this Ram 1500 TRX ran a 9.901 at 136.86 miles per hour and most impressively, the truck hit the rev limiter on the 1-2 shift. That slowed it down a bit and it caused a delay in the activation of the nitrous system, yet he still pulled a 1.530 60-foot time, getting to the 8th mile marker in 6.369 seconds with a speed of 111.78 miles per hour.
Weber believes that on his next trip out, with better air and without hitting the rev limiter, this truck could get down into the 9.70s with speeds in excess of 140 miles per hour. Should that happen, we will be sure to bring you that information, but in the meantime, check out the video below of the first 9-second quarter mile by a Ram TRX.