Many Ford fans have been hoping that the F-150 Lightning would return with the mettle to battle the Ram 1500 TRX, even if only on paved surfaces. The good news is that the Lightning is set to return with an online debut planned for May 19th. The bad news is that the new F-150 Lightning will be an all-electric pickup and based on early comments, it is going to fall well short of challenging the TRX in any sort of race.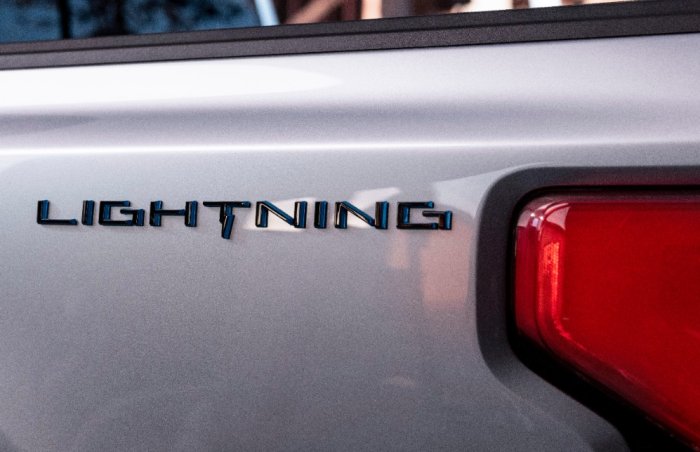 Like the Raptor, the Lightning might be quick, but it isn't likely to be quick enough to allow F-150 fans to buy a truck that will beat the TRX.
Early F-150 Lighting Details
Ford hasn't offered any real details on the upcoming Ford F-150 Lightning, but this information was shared via a press release earlier today.
"Every so often, a new vehicle comes along that disrupts the status quo and changes the game … Model T, Mustang, Prius, Model 3. Now comes the F-150 Lightning," said Ford President and CEO Jim Farley. "America's favorite vehicle for nearly half a century is going digital and fully electric. F-150 Lightning can power your home during an outage; it's even quicker than the original F-150 Lightning performance truck; and it will constantly improve through over-the-air updates."
So, we know for sure that the new F-150 Lightning will be all-electric and it will be able to power your home during an outage. Thank goodness, too, as the ability to function as an emergency generator has been a key criteria for truck buyers for years. As for the hint to performance numbers, there isn't much to brag about there, either. If Farley meant the actual original, F-150 SVT Lightning, that truck was brutally slow by modern standards, running a mid-to-high 15-second quarter mile time.
Real World Performance
If Farley meant any of the earlier Lightning models, the bar is a bit higher, as the factory-supercharged trucks were low 14-second trucks in stock form. For the new Lightning to be quicker than any previous Lightning, it would only need to run the quarter mile in the 13-second range. Meanwhile, it has been proven by media reviews and private owners that the TRX is a low 12-second truck in stock form, right down to the off-road tires.
Had Ford stated that the Lightning would be the quickest of any modern F-150, then we would have some hope for Blue Oval enthusiasts who want a truck to battle the Ram 1500 TRX. In mentioning that the new Lightning is quicker than the previous trucks to wear the name, there is a chance that it could be a 12-second truck, but we are skeptical that this Lightning will stand any chance in a drag race against the TRX.
Of course, we have to point out that the Ram 1500 TRX was obviously not built for drag racing and we wouldn't expect that the new Ford F-150 Lightning will be, either. Ford fans will have to keep holding their breath for that GT500-powered Raptor that so many people insisted would arrive earlier this year.
In the meantime, a modern era horsepower war is taking place on streets around the United States every day and Stellantis is in control, with Ram winning the truck battle while Dodge is winning the car battle with the 807-horsepower Dodge Challenger SRT Super Stock.