This past weekend, the funny car teams of the NHRA big leagues rolled into Las Vegas for the Dodge//SRT NHRA Nationals Presented By Pennzoil – the second-to-last stop on the 2021 season schedule and the second-to-last event on the road to the championship. Dodge Chager Hellcat Redeye funny car driver Ron Capps came into this event with a one point lead over teammate Matt Hagan while fellow Charger driver Cruz Pedregon was in 4th, 101 points out of the lead.
Pedregon shined brightest of the Dodge Charger drivers, beating Ron Capps in the final round for the event win, but more importantly for Mopar fans, Cruz is now 3rd in points, with Hagan in 2nd and Capps in the lead with just one event remaining – all-but-guaranteeing that a Dodge Charger will win the 2021 NHRA Funny Car Championship. The final event of the season awards 50 more points to the winner than the earlier events, so there is a possibility that JR Todd could make a run for the title if he qualifies first, wins the event and the Dodge drivers all lose in the first round, but the odds are incredibly low.
Mediocre Qualifying Numbers
In many cases, the Dodge Charger Hellcat funny cars are fast off of the trailer, but that was not the case at the Dodge//SRT NHRA Nationals. In the first round, Hagan was 4th quickest with a 3.931 and Capps was 7th with a 3.973, but Pedregon's 8.401 put him in the 16th spot on the ladder – although with 18 funny cars in attendance, drivers had to actually make the field for the first time in a while. Meanwhile, the Toyota's of Alexis DeJoria (3.896) and JT Todd (3.911) were 1st and 3rd while John Force (3.902) sat 2nd. Todd and Force were the two top non-Dodge championship challengers coming into this event.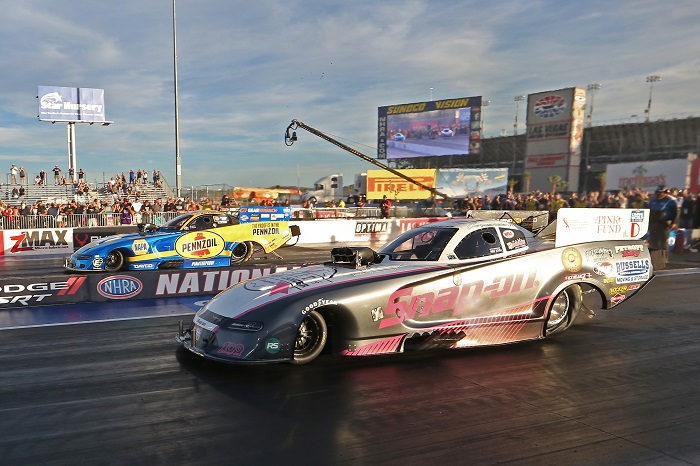 In the second round of qualifying, Capps jumped up into the 4th spot with a 3.926 in his Dodge Charger, pushing Hagan into 5th as he continued on with his first round time. Meanwhile, Pedregon moved into 8th with a 3.959 while DeJoria, Force and Todd held onto the top 3 spots.
There was a big shake-up in the third round of qualifying, with Hagan jumping up into 4th (3.905) and Pedregon moving up into 7th (3.918) with his Charger, but with Robert Hight and Bob Tasca III also posting strong numbers, they moved into 5th and 6th, pushing Ron Capps' Dodge into the 8th spot for the start of eliminations. Once again, DeJoria, Force and Todd sat 1-2-3.
Eliminations
In the first round of eliminations for the Dodge//SRT NHRA Nationals, Capps beat Tim Wilkerson's Ford Mustang and Pedregon beat Tony Jurado. Unfortunately, Matt Hagan took his second first-round loss in a row, losing to Chad Green. However, JR Todd and John Force also both lost in the first round and that has huge championship implications, as with their first round losses, both Todd and Force are all-but-mathematically eliminated from title contention. We will talk about that at the end of this article.
In the second round, Capps took on DeJoria, who qualified first, but after her 3.86 to open qualifying, she was running in the 3.9X range through the rest of qualifying in the first round of eliminations. Meanwhile, Ron Capps was the quickest funny car driver in round 1, so DeJoria would have to run a serious number to get the win against the Napa Dodge Charger. That didn't happen, as not only did she run a lackluster 3.998 with her Toyota Camry, but Capps ran a 3.884 – the quickest funny car ET of eliminations for this event. Meanwhile, Pedregon beat Chris Morel to advance to the semifinals along with Bob Tasca III and Robert Hight.
The semis saw a Dodge-Chevy battle and a Dodge-Ford battle and as it often the case, Dodge dominated. Capps grabbing the starting line advantage and never looked back (3.904 at 326), beating Hight's Camaro easily when the John Force Racing Chevy ran into problems mid-run. As for Pedregon, he pulled a nearly-perfect reaction time (.004) and basically got a free pass when Tasca's Mustang had problems early in the run. Cruz ran a 3.924 at 325 and he was slower than Capps in every round of eliminations, so he would have to make his best pass of the day to beat the title favorite – or Capps could have a bad run.
Cruz got the starting line advantage, but Capps quickly pulled ahead to take the lead until his supercharged Hemi let go around the 300-foot mark. Even though Pedregon had troubles of his own further down the track, he got the win with a 4.257 at 225 miles per hour while Capps ran a 6.854 at 80 miles per hour after blowing an engine. You can watch the final round race in the video below from the NHRA YouTube channel.
One Race Left to Decide the Champions
There is now just one race left on the 2021 NHRA schedule and it will decide the funny car championship. Right now, Capps leads with 2,585 points, Hagan is second, 58 points back and Cruz is third, 83 points out of the lead. JR Todd is fourth, 138 out, and John Force rounds out the top 5, 155 points out of first place. I believe that Force is mathematically eliminated, but Todd is not.
(Position – Driver – Point Total – Points Behind Leader – Vehicle)
1 – Ron Capps – 2585 – 0 – NAPA Auto Parts Dodge Charger SRT Hellcat
2 – Matt Hagan – 2527 – 58 – Mopar/Pennzoil/Sandvik Dodge Charger SRT Hellcat
3 – Cruz Pedregon – 2502 – 83 – Snap – on Tools Dodge Charger SRT Hellcat
4 – J.R. Todd – 2447 – 138 – DHL Toyota Camry
5 – John Force – 2430 – 155 – PEAK Chevrolet Camaro SS
Before looking at who has a real chance at the funny car title, we should quickly look at how points are earned at the NHRA Finals in Pomona. Drivers can earn points during qualifying, at the end of qualifying, as well as getting points based on their finishing position.
Below is a list of how points are awarded for qualifying results:
(Position – Points Awarded)
1 – 10
2 – 9
3 – 8
4 – 7
5-6 – 6
7-8 – 5
9-12 – 4
13-16 – 3
Next, there are points awarded to each of the four quickest drivers in each round of qualification, with the quickest driver getting 4 points, 2nd quickest gets 3, 3rd quickest gets 2 and 4th quickest gets 1. Also, every driver who makes at least one qualifying run at the NHRA Finals gets 15 points. With three rounds of qualifying, drivers have a chance to get as many as 37 points if they are the quickest in every round, leading to the top spot on the elimination ladder.
As for finishing points, the NHRA Finals have a beefed-up point system as follows:
(Position – Points Awarded)
Winner – 150
Runner-up – 120
Third-round loser – 90
Second-round loser – 60
First-round loser – 30
Since losing in the first round gets a driver 30 points (provided that the driver completes the run) and making a qualifying run, everyone who makes the elimination rounds is guaranteed to get 45 points, plus whatever other points they get from qualifying.
How Mopar Can Lose the Funny Car Title
In a worst-case scenario for Mopar drag racing fans, let's assume that Ron Capps, Matt Hagan and Cruz Pedregon qualify in the bottom three spots on the ladder. That means that they would get 15 points for participating in qualifying and 3 points for qualifying at the bottom of the ladder.
At the same time, let's assume for this discussion the JD Todd (the current highest-ranked non-Mopar driver) is the quickest funny car in each of the 3 rounds of qualifying. He would get 15 points for attempting to qualify, 4 points for being the quickest in each round (totaling 12 points) and 10 points for being the top spot on the ladder – leading to a total of 37 points ahead of eliminations. With that scenario, these would be the point totals heading into eliminations:
(Position – Driver – Point Total – Points Behind Leader)
1 – Ron Capps – 2600 – 0
2 – Matt Hagan – 2542 – 58
3 – Cruz Pedregon – 2517 – 83
4 – J.R. Todd – 2484 – 116
If Capps, Hagan and Pedregon all lost in the first round of eliminations, they would each get 30 points, resulting in the following totals:
1 – Ron Capps – 2630 – 0
2 – Matt Hagan – 2572 – 58
3 – Cruz Pedregon – 2547 – 83
JR Todd would have 2,484 points after qualifying while Capps, should he lose in the first round, would have 2,630 points – a difference of 146 points. If JR Todd can win the NHRA Finals, he will be awarded 150 points and he will win the NHRA Funny Car Championship.
How Mopar Can Win the Funny Car Title
For JR Todd to win the championship, everything explained above has to happen. He has to be the quickest car in every round of qualifying and Capps needs to be the slower. Todd needs to win the class for the final event while he needs Capps to lose in the first round. If Capps qualifies well and wins through the first round of eliminations, there is no way that JR Todd's Toyota team can catch Team Mopar.
If Todd loses in the first round, a Dodge will win the title – it just comes down to which Charger has the best outing in the NHRA Finals. If Pedregon brings his A Game and both Capps and Hagan struggle, Cruz could win the title. If Capps and Cruz struggle, Hagan can win, but what it comes down to is that if Ron Capps has a gone event in Pomona, he will win the 2021 NHRA Funny Car Championship.