This past weekend, the 2021 Ram 1500 TRX with VIN #001 rolled across the Barrett-Jackson auction block in Scottsdale Auction and when the final gavel sounded, the winner took home the 702-horsepower half-ton for $410,000. All of that money will go to the United Way of Southeast Michigan's 2-1-1 helpline, which provides various assistance and services to veterans of the United States Armed Forced and their families.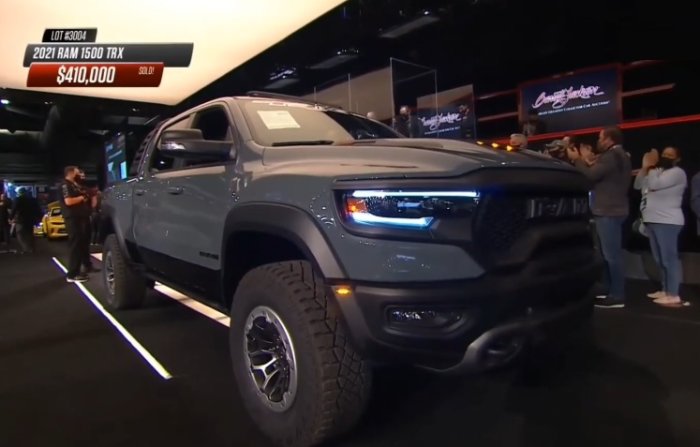 "When Ram 1500 TRX VIN 001 rolled off the assembly line, it instantly became an incredibly exciting one-of-a-kind collectible truck, and that was reflected by the winning bid," said Mike Koval Jr., Ram Brand Chief Executive Officer – Stellantis. "More importantly, we're thrilled that the first Ram 1500 TRX raised significant funds that will go directly to the United Way for Southeast Michigan's 2-1-1 helpline to provide services to veterans and their families. Ram continues to honor all of those who serve or have served in the United States armed forces with distinction through our 'Built to Serve' editions. For Ram truck owners, whether military or civilian, 'Built to Serve' is a maxim that they can be proud to stand behind. This auction is another way we can honor our veterans by supporting them when they come home."
Ram TRX #1 Auction
In the video below from the YouTube user "super browndude", you can watch the auction action for 2021 Ram 1500 TRX VIN #001. The bidder starts at $100,000 and the bidding is a little slow at first, but once the prices get up into the $250,000 range, the action picks up. It takes a little under three minutes for the TRX to get to $400,000, with the bidding closing at $410,000. We don't see any of the bidders during the action, but we do hear the auctioneer say "on the phone" as the bidding closes, so the winner could literally be anyone in the world.
In addition to getting the 2021 Ram 1500 TRX Launch Edition pickup with VIN #001, the winning bidder gets a unique authentication kit that includes a presentation box with a bound book which highlights the vehicle's design development, exclusive photos and video and a speed-form model, along with a unique Ram truck cover that was developed by the vehicle's design team.
More importantly in the grand scheme of things, the winner of this 2021 Ram TRX just donated $410,000 to the United Way.
Check out the video below for a look at the bidding on Ram TRX VIN #001.