A few weeks back, we brought you the news that a Dodge Durango SRT Hellcat had become the first of its kind to break into the 10-second quarter mile range. That 3-row SUV is owned by Melissa Satera, wife of tuning mastermind Jeremy Satera of Satera Tuning, and after breaking into the 10s, she wanted her daily driver to be a bit quicker.
Satera installed his SaTTun 900hp package, which includes an engine tune for his specific blend of E85 track fuel and the Durango jumped from high-10s to mid-10s. Best of all, Jeremy Satera explained that there was a heavy head wind, so there is more room for improvement.
SaTTun 900 Durango Hellcat
I spoke with Jeremy Satera after this latest resetting of the quarter mile record for a Dodge Durango SRT Hellcat to get the details on the build.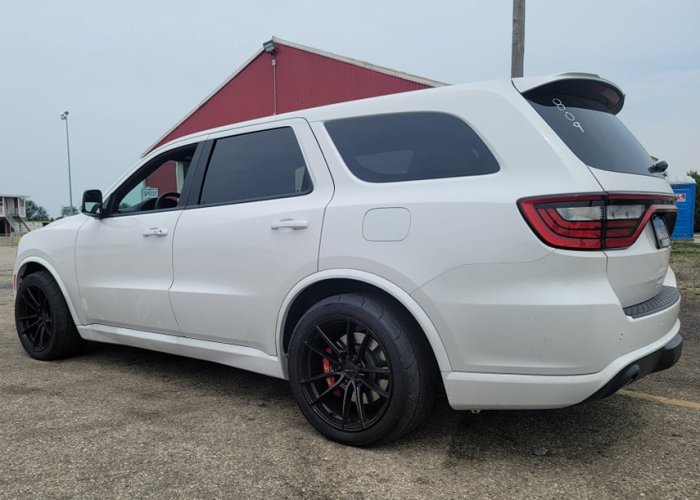 He explained that the his SaTTun 900 package adds a clutched 2.75-inch upper pulley, a 10% lower pulley, Injector Dynamivs ID1300x injectors, Stainless Works track-only midpipes, a Legmaker carbon fiber cold air intake and the SaTTun True Flex Fuel kit. When paired with a proper in-house engine tune on Satera Spice – the shop's signature ethanol blend from Out Front Race Fuels – leading to dyno figures of 873.92 horsepower and 828.02 lb-ft of torque at the wheels.
Finally, this time around, the Durango Hellcat is driven by Jeremy, not his wife Melissa.
The New Record
In the video below, we watch as Jeremy Satera eases into the staging beams on the drag strip next to an SN95-era Ford Mustang. When the green lights drop, the all-wheel-drive Dodge comes tearing out of the hole, pulling the front suspension to the extent of its travel and immediately putting bus lengths on the Mustang. From there, the big SUV roars down the track, stopping the timers with a 10.508 at 129.98 miles per hour.
Again, this run was made into a strong headwind, so perhaps we will see an even quicker time from this Durango Hellcat in the near future. If nothing else, once temperatures begin to stop as we get into the autumn months, there should be quicker times on the horizon for the Satera Tuning SUV.