In stock form, the 2021 Dodge Durango SRT Hellcat has an official quarter mile time of 11.7 seconds, but some owners have gotten a bit further into the mid-11s without any changes. As for modern Mopar tuning expert Jeremy Satera, it didn't take him long to add some key upgrades to his wife's daily driven Hellcat SUV. With a handful of aftermarket upgrades and a custom engine tune, Satera made this Durango the first of the factory-supercharged Dodge SUVs to break into the 10-second club, with his wife Melissa at the wheel.
First 10-Second Durango Hellcat
We had a chance to speak with Jeremy Satera, who provided all of the details on his record-setting 2021 Dodge Durango SRT Hellcat.
When Satera Tuning first modified this Durango Hellcat, it was fitted with a SaTTun 2.82-inch upper pulley, ID1300 fuel injectors, a SaTTun Tru Flex Fuel system and a custom tune with HPTuners software. In stock form, the Durango made 600 horsepower and 565 lb-ft of torque at the wheels. With the Satera 800hp package, it made 803 horsepower and 742 lb-ft of torque at the rear wheels. You can see the dyno run with that setup in the video below.
However, when Satera took the Durango Hellcat to Great Lakes Dragway, he swapped to a 2.75 pulley and an appropriate tune, which is possible due to the quick-change nature of the SaTTun pulleys. We don't know exactly how much power this Durango makes with the 2.75 pulley, but it is enough to get this three-row hauler into the 10-second range. For those wondering, this run was made with an 80% ethanol mix, right out of the pump.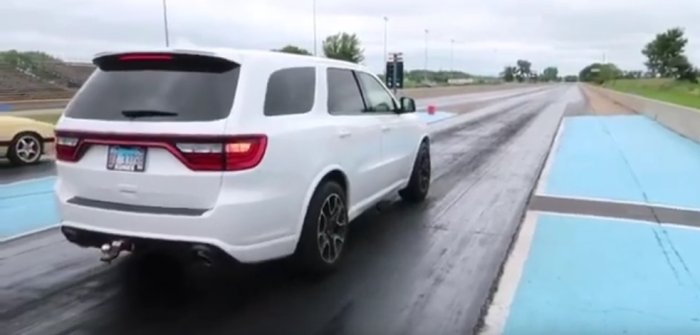 Other than those upgrades, this Durango Hellcat is stock, right down to the Scorpion run-flat tires. Also, this SUV was used to tow a compound boost Dodge Charger SRT Hellcat Redeye and it got 10.5 miles per gallon on the E blend with the A/C blasting. It even had a baby seat and supplies for the day in the back when it became the first factory-supercharged Dodge SUV to crack into the 10-second range.
The 10-Second Run
In the video below, you can watch the Satera Tuning-built Durango Hellcat to become the first of its kind to run in the 10s. On this run, the three-row SUV got off of the line hard with a 1.65 60-foot time, sprinting to the 8th mile marker in just 7.05 seconds at 100.58 miles per hour. On the big end, Melissa Satera stopped the timers with a 10.94 at 125.96 miles per hour, making this the world's first 10-second Durango SRT Hellcat.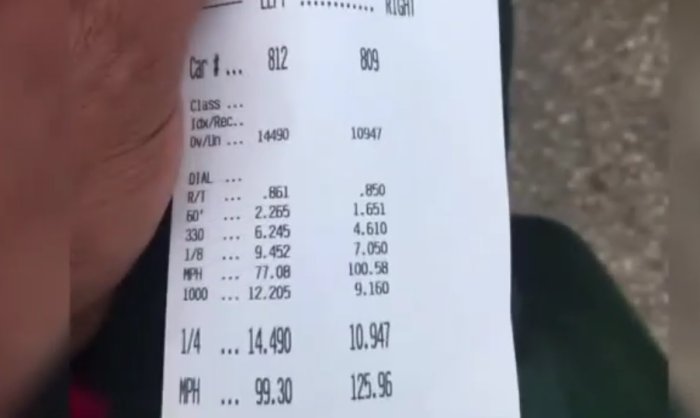 Jeremy Satera pointed out that he was "stuck in the 11s" with the Durango, but his wife managed to get down into the 10s.
While running 10s with a three-row SUV that towed a big, heavy car to the track is impressive, what really makes this number shocking is the short list of modifications. A pulley, a flex fuel system, injectors and a good E-blend tune made this Durango a true 10-second daily driver and it can still comfortably haul a family with a race car in tow.
If you are looking to run 10s with your Durango Hellcat, Satera Tuning is a good place to start your planning.
Crank up your speakers and enjoy!