The Jeep Grand Cherokee Trackhawk is one of the world's most powerful production sport utility vehicles, packing 707 horsepower officially trailing only the Dodge Durango with the same supercharged Hemi at 710 horsepower. The Hellephant is the most powerful crate engine ever offered by Mopar, packing an awesome 1,000 horsepower from the supercharged 7-liter V8.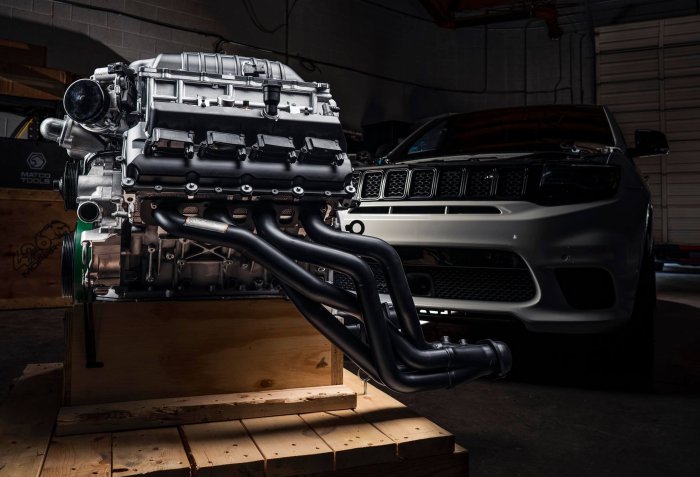 Some people might think that the Trackhawk has plenty of power and those who need more power can "easily" squeeze more power from the factory engine, but the high performance experts are in the process of installing Hellephant crate engine serial #95 of 100 into a Jeep Grand Cherokee and they are calling it the Hellehawk.
Meet the Hellehawk
We had a chance to speak with Tommy Peters, owner of SRT Autoworks, who provided the full details on this unique build. A Hellephant-powered Trackhawk might seem crazy enough, but the team is taking the build a step further, adding some aftermarket upgrades to increase the output of the Hellephant Hemi.
The Hellephant engine in question has been upgraded with an SRT Autoworks/Griptec upper pulley, ID1700 fuel injectors, a Legmaker carbon fiber intake, Kooks long tube headers, Meisterschaft exhaust, FI blower spacers and thermal blanket, SRT Autoworks billet oil catch can, 180 degree thermostat and an E85 tune from the modern Mopar experts at Barth Tuning.
According to Peters, the goal is to lift the output of this Mopar crate engine up around 1,200 horsepower at the crankshaft.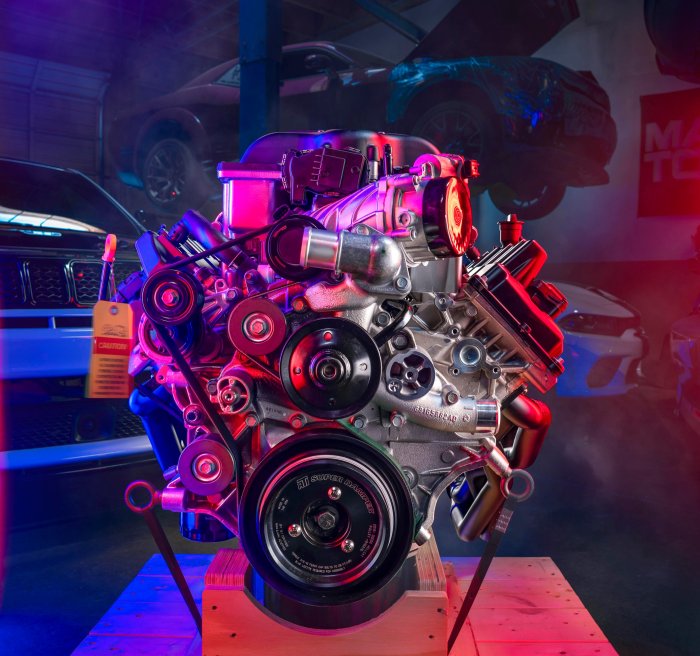 Hellephant Details
For those who aren't sure what makes the Hellephant crate engine different than the Hellcat Hemi, the key differences are more engine volume and a larger supercharger. The Hellcat, Demon and Redeye engines all measure 6.2 liters and the IHI supercharger varies from 2.4 liters in the original Hellcat models to 2.7 liters in the Demon and Redeye models. The Hellephant crate engine measures 7 liters and the supercharger is a unique 3-liter unit, so it has 10% more engine volume, 10% more blower volume and other unique internal bits to yield 1,000 crank horsepower on pump gas.
As you can see, we have some stunning early build pictures from SRT Autoworks, provided by Joshua Rezende of Black Tire Media. You can check out more of his work by clicking this link. Peters has explained that Rezende is stopping by the shop to capture the various stages of the build, so when this project is done, there should be a pretty amazing gallery to flip through. We also have the first start video footage of the Hellephant-powered Trackhawk below, with more to come. Needless to say, when the first Hellephant Trackhawk hits the street, we will bring you that information here on Stellpower. In the meantime, check out the video below of the Hellephant Hemi idling in the engine bay of a Jeep Trackhawk.