The reduced production of Dodge Charger and Challenger last year due to production stoppages stemming from the early onset of the Covid-19 pandemic coupled with the ongoing component shortage, most recently pertaining to microchips, has led to an extreme short supply of new Hellcat-powered Dodge cars. That short supply of new models has led to less people trading in their used cars and as a result, there is smaller-than-normal inventory of used Dodge Hellcat Challengers and Chargers across the country.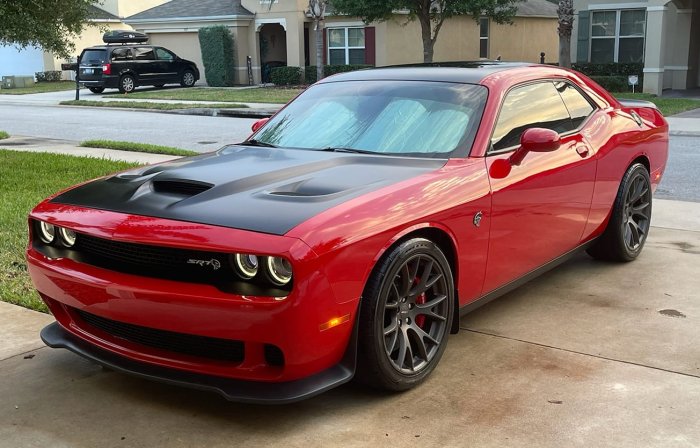 Thanks to the laws of supply and demand, as supply has diminished while demand has remained the same, prices have risen – a whole lot. In late 2019, it wasn't unusual to see a Challenger or Charger in Hellcat trim selling in the low-$40k range. If you came across an earlier Hellcat Challenger for sale with the manual transmission and higher miles, it was possible to get them in the lower-$30k range. However, as both new and used inventory levels have hit unusually low levels around the country, prices have risen to the point that people who have been driven Hellcat cars for a few years are either making money or nearly breaking even on the sale or, in some cases, dealership trade.
After seeing quite a few stories about Dodge Hellcat cars being sold and traded for shockingly high numbers, I posted in the SRT Hellcat and Demon Group on Facebook to see if any former Challenger or Charger owners who sold recently were willing to share their numbers. We found several, and these are just a small example of the many Hellcat owners who are literally making money on the sale of their used muscle cars.
Hellcat Challenger Sales
First, I spoke with two Dodge Challenger SRT Hellcat owners who got great money for their Mopar muscle car.
Ricky Bonilla had a 2018 (shown at the top of this piece) with 17,000 miles and his lease was about to end, so he traded it in for $56,000, allowing him to clear about $7,000 on the trade. At that point, Bonilla ordered a 2021 Charger Hellcat.
Patrick O Quine had a 2019 Challenger Redeye (above) that he paid $76,000 for when it was new. He sold that car to a dealership for $75,000 in early May and that car is currently listed on the dealership website with a price of $86,000. Again, the first owner paid $76,000 and sold it for $75,000, so he effectively paid a grand to drive a 797-horsepower Challenger for a few years. Today, the dealer is selling this used 2019 Challenger Redeye for $10,000 more than the first buyer paid when new, which illustrates the state of the current used car market.
Hellcat Charger Sales
Next, I heard from four Dodge Charger SRT Hellcat owners who have benefited from the recent spike in sales.
Timothy Locklear sold his Charger for $5,500 over current KBB Private Party pricing. Another seller who preferred not to have his name used bought his 2019 Hellcat sedan new for $65,500 and he sold that same car recently for $60,000 with just over 28,000 miles on the odometer. That car is now listed on the dealership website with a price of $68,000. A Facebook user who goes by the name Lowe Slow bought his Hellcat Charger (above) for $58,000 after paying $55,000 a few years earlier.
Ben Boggs sold his 2019 Hellcat Charger (below in Indigo Blue) with 11,765 miles to his dealership for $63,000 after paying right around $64,000 for the car when it was new.
In other words, if you own a Dodge Challenger or Charger with the supercharged Hellcat Hemi, this is a great time to sell or trade for top dollar. The problem is that if you plan to buy another used car to replace your Hellcat, you are likely to pay top dollar for pretty much any performance model right now. On the other hand, you can order a new car from the dealership without too big of a jump from normal pricing. With new inventory levels being low, dealerships are less likely to flex on pricing, but even if you are buying at MSRP, it might be worth your time to sell or trade your current Dodge Hellcat car.
Also, while I specifically asked a group of Hellcat owners, some Scat Pack owners have gotten similar results when selling or trading their 485-horsepower Challenger or Charger. Really, with general used car inventory levels being so low, the odds are good that you will get a better price now for your Challenger or Charger than you would have 18 months ago, so if you don't plan to have your Mopar muscle car forever, this is a great time to sell. We have even seen similar reports from Ram truck owners who have sold or traded used pickups for top dollar, so if you want to get into something new, you might want to check your vehicle's value on the various websites or at your local dealership.