The Dodge Charger SRT Hellcat owned, built, tuned and driven by Zdung Ho has long-held the record for being the quickest Hellcat sedan in the world, having been the first to break into the 8-second range back in 2019. Since becoming the first four-door Hellcat car to run in the 8s, the man known simply as "Z" online has continued to make changes, gradually improving his personal best. Late last month, his personal best became another huge achievement in the modern Mopar racing world, as Zdung Ho drove his Hellcat Charger into the 7-second range.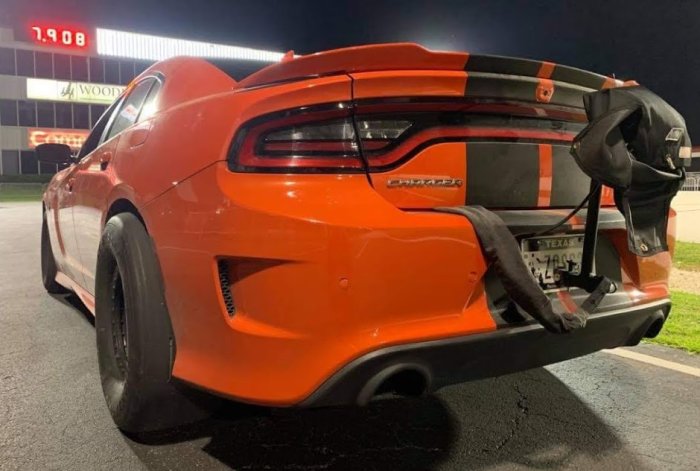 Zdung Ho's 7-Second Dodge Charger SRT Hellcat
This is a factory Hellcat-powered Dodge Charger, but as you can imagine, transitioning from an 11-second car to a 7-second car requires extensive upgrades. When Ho first broke into the 8s back in 2019, he was running a 7.0-liter, 426-cubic inch Hemi engine but this time, the engine measures 441 cubic inches.
Built by Demon Performance and TKM, this monstrous Hemi features a Winberg billet crankshaft, Carrillo Pro-H Rods, custom Diamond pistons, a custom camshaft from Demon Performance, a Manton Roller Rocker arm System, Stainless Works longtube headers, a Nitrous Outlet spray bar setup, ThiTek custom cylinder heads, an FI Interchiller system, a Whipple intake and, of course, a Whipple 4.5-liter supercharger.
Feeding this hungry Hemi is a Fore triple pump fuel system with ID2150 injectors, with the entire system being tuned by Z himself.
Putting all of that supercharged power to the ground is a ZF 8HP90 automatic transmission, which has been built by Paramount Performance, along with a Menscer coilover suspension setup, a Driveshaft Shop 1,400hp half shafts, a Driveshaft Shop aluminum driveshaft and a Per4Mance Development differential brace. A TCE 15-inch rear brake conversion makes room for the High Horse Performance / Bogart 15″ beadlock wheels wrapped in 315/60 Mickey Thompson pro radials.
Finally, Z's Charger Hellcat has a full cage and a parachute, helping to keep him safe when going 175 miles per hour in a Dodge sedan.
The Record Run
Zdung Ho's Dodge Charger SRT Hellcat has been the quickest of its type in the world since he broke into the 8s back in 2019, but he has continuously whittled away at his record time. On April 25th at Houston Raceway Park, he cut that number down to a 7.908 at 175.55 miles per hour.
That makes this Charger the first Hellcat sedan to run in the 7-second range. You can watch Zdung Ho's record run in the video below. Make sure to have your sound up so that you can hear Z's Charger roar.