This past weekend, many of the quickest modern Mopar race cars headed to Houston Raceway Park for the Lone Star Mopar Fest, which is one of the stops on the Modern Street Hemi Shootout series. The Dodge Challenger SRT Hellcat known as GRMPYCAT was in attendance, and once again, on the first run off of the trailer, Kevin Helmick and his team made history.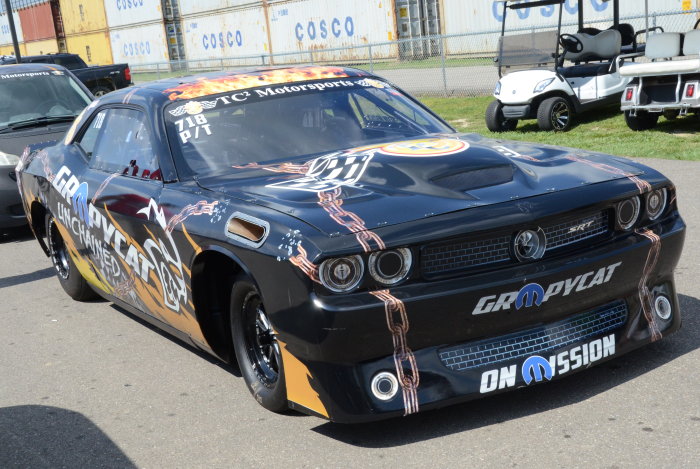 Improving on his previous best quarter mile time of 7.01 at 199.46 miles per hour, Helmick and the worlds quickest and fastest Hellcat car laid down a 6.99 at 200.05 miles per hour. That backs up Helmick's title as the quickest and fastest Dodge Challenger SRT Hellcat – or any VIN Hellcat car – in the world, but it is also the first Hellcat car to run a 6-second quarter mile.
You can watch that 6-second run in the video below from Helmick's YouTube channel. On this record run, the GRMPYCAT Dodge Challenger pulled a 1.183 60-foot time and it got to the 8th mile marker in 4.595 seconds at 164.23 miles per hour.
Helmick expects to run deeper in the 6-second range later this year, with trap speeds in the area of 215 miles per hour. In short, this modified Hellcat Challenger is similarly quick and fast to an NHRA Pro Stock car.
Details on the GRMPYCAT Hellcat Challenger
Kevin Helmick's Dodge Challenger SRT Hellcat started off as a normal production car that was built on the Brampton assembly line, but it has obviously been heavily modified over the past few years. Frankly, running in the 6-second quarter mile range is impossible without this level of modification. Pretty much every aspect of the car has been modified and we have included a full list of modifications below.
For those wondering, all that Helmick and his team have changed since the previous low-7-second runs is the rear differential gearing.
First, the people and businesses involved with this build:
Owner/Driver- TC2 Motorsports- Kevin Helmick
Fabricator: Brazzel Performance Fabrication- Jason Brazzel
Engine: Demon Performance-Sujal Patel and TKM- Kevin Mullins
Tuner: TKM- The Kevin Mullins
Crew Chief- Bill Quay
Technician- Curtis Creel
Next, the engine details:
426 stroked Gen 3 HEMI
98mm Jose turbo
Diamond pistons
8 Atomizer 850 inj
3 Atomizer 400 inj cold pipe
Winberg crank
Thitek ported heads
GRP rods
Custom ground cam
Victory titanium valves
Manton rocker arms
Trend one piece push rods
Johnson lifters
Waterman 26 GPM Fuel pump
Peterson external oil pump
Milodon oil pan
Holley Dominator EFI ECU system
MSD600
Transmission Details:
ATI big shaft full T400
Moroso pan
Neal Chance converter
Trans brake
M&M shifter
Chassis, body and interior details:
Custom 25.2 chassis
Menscer 4 way adjustable shocks
Strange spindle
Strange carbon fiber brakes in front, aluminum brakes out back
Red River steering rack
Strange Ultrafab 9 with 9.5 pro gear
PST carbon fiber driveshaft
Davis Technologies VPS, Profiler
Custom 4 link suspension
Dual Stroud pneumatic chutes
Stroud fire suppression system
Cool shirt air system/water system
Smart wire
Weld V-Series front wheels with M/T
Bogart Racing rear with M/T 315 ET Street Pro Drag Radial
(Different wheels shown in some pictures from 2020)
All carbon fiber interior