A few weeks back we talked about a 2021 Ram 1500 TRX that had run a 10.75 quarter mile with the help of a few simple modifications and nitrous oxide. That half-ton pickup headed back to the track this past Saturday with a new engine tune, and although it was nearly 100 degrees at Palm Beach International Raceway, "305trx" on Instagram reset his own record.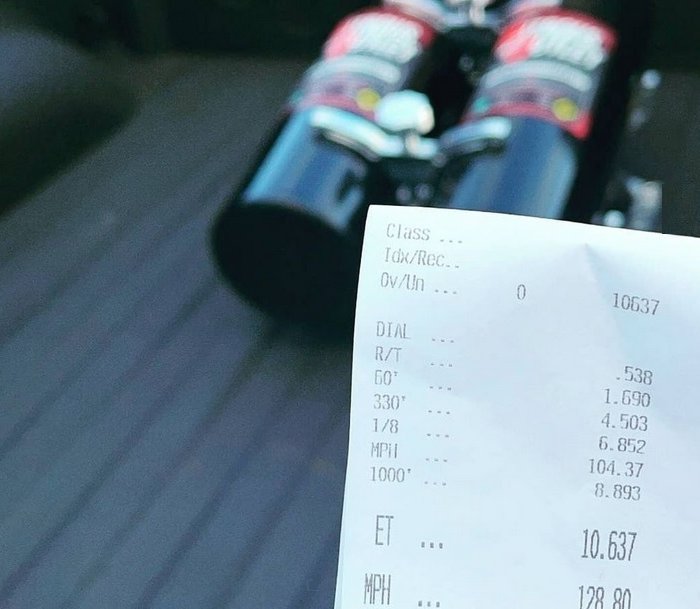 Record Setting TRX
In case you missed our first piece on this 2021 Ram 1500 TRX, here is a quick rundown of the modification needed to be the world's quickest factory-built Hellcat-powered pickup. It has an ATI lower pulley, 1300cc fuel injectors, a F.A.S. Motorsports ported throttle body, a cat delete, a Gearhead Fabrications cold air intake, a JMS boost-a-pump, a Nitrous Outlet system spraying a 200-shot and a DSMLights E85 tune using HPTuners software. With the custom tune, this Ram TRX made 909hp and 1,015 lb-ft of torque at the wheels.
Everything else about this Ram 1500 is stock, right down to the off-road tires. The only change to the truck from the 10.75 run is that the tune has been adjusted so that the transmission shifts at 6,500 RPM rather than 6,100. However, even with the heat and the same 2-second delay on the nitrous system, the 305trx reset the TRX record.
The New Record
In the Instagram post below, you can watch the quarter mile run that led to the new Ram 1500 TRX record. In that run, this half-ton truck on off-road tires got to the 60-foot mark in 1.69 seconds and the 8th mile in 6.852 seconds with a speed of 104.37 miles per hour. On the big end, the TRX stopped the timers with a 10.63 at 128.8 miles per hour.
He had hoped to make another run with a shorter delay on the nitrous system, but he only got one. Fortunately, he made the most of that one run. Check it out in the IG post below.