The biggest and fastest Mopar drag racing series in the world starts its 2022 season this weekend at the Orlando Speedworld, with the first race of the Modern Street Hemi Shootout schedule being sponsored by Legmaker Intakes. The actual MSHS race itself is held on Sunday the 27th, but series participants who want to make a weekend out of it can also sign up to race on Friday and Saturday.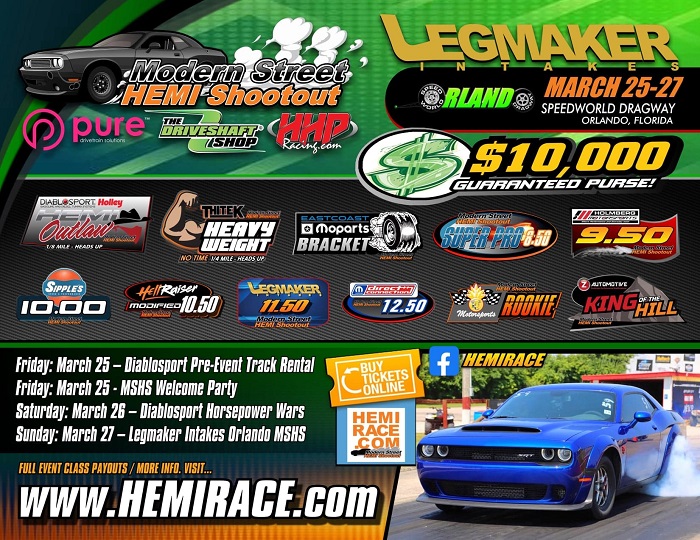 Modern Street Hemi Shootout Details
If you are not familiar with the Modern Street Hemi Shootout series, it is the biggest and fastest Mopar racing series in the world. As the name suggests, it is open to everything with a modern Hemi and it is predominantly street cars, but as the series has evolved over the years, we have seen more cars that are more of race-only machines. That being said, while there are some insanely fast cars, with many running in the 6s, 7s and 8s, there is a huge field of vehicles in the 9s, 10s, 11s and 12s, leading to plenty of competition for more traditional street machines.
If you have a late model Dodge Challenger, Charger or Magnum, a Chrysler 300, a Jeep Grand Cherokee, a Dodge Durango, a Ram pickup or literally anything else packing a Gen III Hemi, you can participate in the Modern Street Hemi Shootout events. There is even a wicked-fast Ford Mustang with a Demon engine, so if you have a car, truck or SUV with a late model Hemi engine – you can flex your drag racing muscles at the MSHS events.
I have covered several MSHS events in person and not only is there a ton of great racing for both racers and spectators, but it is also an incredibly friendly, welcoming group of people. While there is a large core group of racers who attend many of the events and have for years, new racers are welcomed by the regulars, as everyone involved want to see the series continue to grow. It has grown so much that series organizer Dan VanHorn has purchased Rockingham Dragway, with "The Rock" becoming the home track of the series.
2022 Opening Weekend
The actual Legmaker Intake Modern Street Hemi Shootout event is held in Orlando on Sunday, March 27th, but as mentioned above, racers can get some track time on Friday and Saturday as well. On Friday, you can participate in the Diablosport pre-event track rental, followed by Diablosport Horsepower Wars on Saturday, March 26th.
The Legmaker Intakes Orlando MSHS event racer early entry fee is $130 and that rate is good through Wednesday at midnight. After that, including at the gate, the price if $140. This racer entry includes two classes – bracket and whichever time index class applies to your vehicle. For example, if you have a stock Scat Pack car, you would likely run the Direct Connection Street Class with a 12.50 index and the EastCoast Moparts Bracket Class.
If you have a stock automatic Hellcat car, you would likely run the Bracket Class and the Legmaker Intakes 11.50 index class, while a Hellcat on drag radials with a tune, or a stock Redeye with a good tire would likely run in the Hellraiser Modified 10.50 class.
The 2018 Demon racers will find a great option with the return of the 9.50 index class, sponsored by Holmberg Motorsports. There is also a 10.00 index class sponsored by Sipple's Speed and Performance, the 8.50 Super Pro index and the TC2 Motorsports Rookie Class, but that 8-car class is full for the Orlando event.
The quickest cars on the grounds will be running in the Diablosport/Holley Hemi Outlaw Class or the ThiTek Heavyweight Class, while all of the class winners will face off for the Z Automotive King of the Hill. It should be noted that a key new rule change for the 2022 MSHS season applies to the quickest vehicles – 8.50 class, Outlaw and Heavyweight – requiring an engine oil containment "diaper".
In short, your Hemi-powered vehicle will compete in the Bracket Class and whichever time-based index class which best applies to your elapsed times.
The Friday Pre-Event Track Rental costs $175 and the Diablosport Horsepower Wars has a gate price of $35 per class. Spectator price is $25 per day or $40 for a weekend pass. Click here for more information on the event, including buying tickets at the discounted early price.
If you can get to Orlando this weekend, whether you are spectating or racing, the Modern Street Hemi Shootout guarantees an exciting weekend of high horsepower fun.
2022 MSHS Sponsors List
Series Presenting Sponsor
Pure Drivetrain Solutions
Title Sponsors
High Horse Performance & The Driveshaft Shop
Event Sponsors
Orlando – Legmaker Intakes
Virginia – Demon Performance
Rockingham – Sipple's Speed and Performance
Topeka – AAD Performance
Detroit – ThiTek
Maryland – Eastcoastmoparts.com
Final Stand (Non-Points) – High Horse Performance
Class Sponsors
Bracket – Eastcoastmoparts.com
HEMI Outlaw – Holley & DiabloSport
8.50 – Stanley's Performance
Heavyweight – ThiTek
9.50 – Holmberg Motorsports
10.00 – Sipple's Speed and Performance
10.50 – Litens HellRaiser
11.50 – Legmaker Intakes
12.50 – Direct Connection
Rookie Class – TC2 Motorsports
Boost N Juice (Rock, Topeka & MIR) – Nitrous Outlet
Drag Pak (VMP & MIR) – Wesley Motorsports & Bilstein
Prize Sponsors
King of Kings – Barth Tuning
King of the Hill – Z Automotive
Best Reaction Time – Stage 6 Motorsports
Best ET – Allpar Garage
Best 60 Foot Award – AAD Performance
Best ET HEMI RAM – Moe's Performance
Twin Win – Stell Sav
Party Sponsors – VanDrake Racing
Winners Circle Sponsor – TBA
Hard Luck Award – American Muscle Performance
Heavyweight Class Bonus Payout – Labworx Development
Sponsors
ZH Tunes
Cam Motion
Cometic
Jokerz Performance
TG Motorsports
Hall | MileOne Autogroup
Anderson Composites
Whipple Superchargers
Moe's Performance
Ripatuned
Stanley's Performance
Associate Sponsors
Hot Shot's Secret
Satera Tuning
Allpar Garage
Professional Auto Collision
Gallegos Vinyl and Engraving
Karma Racing Products
Gearhead Fabrications
Orthopedic Spine Care Of Long Island
1320 Solutions
MS Racing Components
BFNY Performance
True Street Performance
Prestige Auto/Mopar Mike
Contingency Sponsors
Quick Time Performance
ProCharger
Per4Mance Development