Even before the new Airflow was shown, New York Auto Show media saw this Chrysler Pacifica PHEV with a new logo projected onto the drapes behind it (we've artificially lowered them to be closer to the minivan). The new logo appears to be taken from the hoodline and a bit of the headlights, combined with the existing wings. The rationale for replacing the wings is likely that other automakers use almost identical logos, from Aston Martin (which had them since 1921) to Hyundai's Genesis.
The "grille" of the car is quite striking when lit, but it fails to resolve well when seen without any backlighting.
Unlike some electrics, though, it has neither a blank concave nor a huge fake grille in front. The Airflow largely paves its own path forward in terms of front end styling. It does have a small stereotypical electric-car pattern below the bumper, which likely helps cool components which remain—and openings on either side are likely there to cool the brakes. One correspondent believed he saw a Cherokee influence; I can't see it.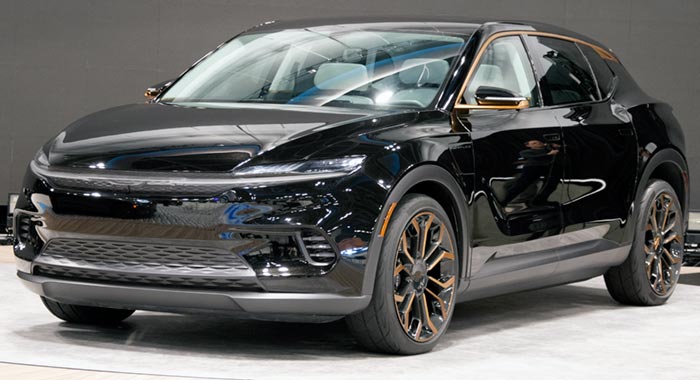 The Galaxy Black paint, allegedly chosen by a customer panel, does change the character of the Airflow quite a bit from the original white car. The blackness is relieved by the copper toned wheels and a unique metallic copper window opening trim; the design of this application seems to be original, though there have been glass surrounds before.
The effect is quite snazzy. In case you're wondering, the black was linked to urban such-and-such and the bronze to the classical Manhattan skyline.
As befits a concept, the door handles pop out at a touch or, presumably, at the push of a fob button, or maybe even at the owner's cellphone proximity. Numerous journalists tried to open the doors of the locked car when it was first driven out, to no avail.
The rear of the Airflow has some resemblance to a certain Porsche crossover, but it wears it well. The word "Airflow" is backlit in the translucent section with the brake lights, matching the front Chrysler symbol. Given the darkness of the stage, the photo below was remarkably hard to capture, but you can see the art deco influence in the typeface.
Below, one of the people who actually made the concept driving it—and the front with the lights on.
Finally, we have Chris Feuell. Many seem to be hoping she will fail, as people gleefully predict a sad end for the Chrysler brand. It may be worth pointing out that electric cars are popular enough that entire model-years' worth sell out before the first demonstrators have time to gather dust in the showroom.
It remains to be seen how she will truly create a better customer experience with "project ingenuity," but maybe the old girl—Chrysler, that is—still has some life in her, and maybe Feuell is the leader to bring it out. We'll know by 2030.
See our Airflow launch coverage, including some of Christine Feuell's plans for Chrysler