Chrysler Canada posted a hefty 15% increase in sales for the third quarter of 2022, compared with the same quarter in 2021. Year to date, Canadian sales rose by 7% to 130,729.
Year to date, every Dodge car still in production rose—but Dodge sales overall fell by 25%, because the former best seller, the Caravan, is no longer on the books; Dodge sold 6,091 Caravans in Q1-Q3 2021 and none at all in 2022. That masked an 81% gain in Chargers, a 22% gain in Challengers, and a 34% gain in Durangos, which are now the best selling Dodges in Canada.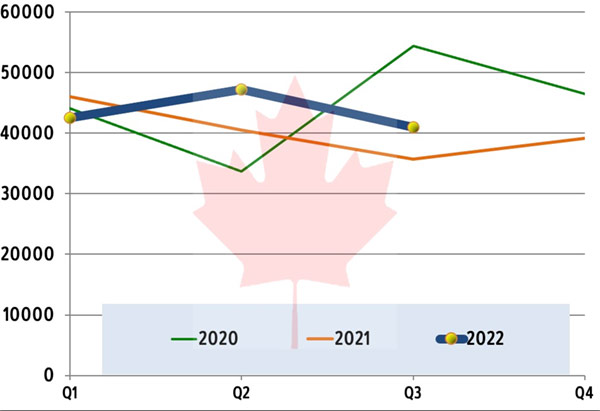 Ram saw a 4% gain for its core vehicles, 56% for the big vans, and 23% for the little vans (though the City only rose to 407). Chrysler saw gains for every vehicle as well—the 300 tripling to 1,762; the Pacifica shooting up 53% to 5,989; and the Caravan rising from 2,424 to 2,879.
Canadian minivan branding can be a bit confusing since the Caravan moved from Dodge to Chrysler. Overall, in Q1-3 2021, they sold 12,439 minivans; in 2022 to date, the number is 8,868, so sales have dropped off.
At Jeep, the story is more nuanced. They sold 2,158 Wagoneers so far this year. Grand Cherokee sales fell by 52% but Grand Cherokee L shot up—the combined total Grand Cherokees of two lengths is roughly the same, 14,025 sold YTD in 2021, 13,311 sold YTD in 2022. Wrangler and Gladiator sales both shot up by 8% and Compass rose by 8%. Renegade rose by 42%, but is quite low—326.
Fiat posted its usual loss, this time 39%, and is down to 47 sales across nine months across all of Canada—around five cars per month. Alfa Romeo gained by 11%, but only reached 753 sales, most of which were Stelvios.