We talk a great deal about the shockingly quick quarter mile times turned in by all of the Hemi-powered modern Mopars, but we rarely bring any attention to the folks racing Pentastar-powered cars. While the vast majority of modern Dodge buyers who want to go racing opt for a V8, the 3.6-liter Pentastar V6 has proven itself to be a very capable engine when modified. Since Dodge has continued to feature V8 engines as long as possible, while other brands like Ford focus all of their attention on V6 mills, we don't see as many built V6 cars in the Mopar community as you might in the Ford or import crowd. However, there is a growing group of modern Dodge drivers who have modified their Pentastar-powered Charger or Challenger to pack V8-like performance.
One of those modern Dodge drivers is Mike Hillegas, who has modified his V6-powered Charger to consistently run in the 11-second quarter mile range, making it the quickest Pentastar-powered car in the world. Today, we bring you a look at Hillegas's Charger and what goes into building an 11-second V6 Dodge.
Mike Hillegas' Dodge Charger
Mike Hillegas' 2016 Dodge Charger came from the factory with the 3.6-liter Pentastar V6, an 8-speed automatic transmission and a standard all-wheel-drive system with 3.08 gears. The bottom end of the engine, the transmission and all of the all-wheel-drive system components are still stock. He hopes to install a 3,000 RPM stall torque convertor in the future, but for now, he is running the stock unit.
While the bottom end of the engine and the basic internals are stock, Hillegas has obviously added a bunch of power to his Dodge Charger. The centerpiece of his build is a Ripp Supercharger fitted with a Death Before Stock blower pulley and paired with a UR Maxx lightweight crankshaft pulley. The Pentastar engine has also been upgraded with Ripp coils, a BBK 78mm throttle body, a Pug lower intake manifold, a port-matched upper intake manifold, ARP head studs, NGK spark plugs, FIC 1000cc fuel injectors, a Proflex Commander Pro running an 80% ethanol mix, a UR lightweight alternator pulley and a Ripp 2.5-inch exhaust system. Of course, Mike points out that loads of ongoing tuning efforts played a key role in his Charger running consistent 11-second passes.
In addition to the engine bits, this Dodge Charger also has a Speedlogix lightweight front bumper, dual Ripp catch cans, a Tazer, BC Racing coilovers, R1 Concepts drilled and slotted brake rotors, a BMC Ram Air Heat Exchanger Hood and Bremmer BR18 19-inch wheels. He also has unique badging and other exterior appearance modifications to give this Charger its own look.
The 11-second V6 Charger
In the video below, you can watch as Mike Hillegas' Pentastar-powered AWD Dodge Charger makes a handful of 11-second runs. These passes were made at Keystone Raceway in Pennsylvania, which is the same track where I grew up racing my Dodge Mirada. Dating back to the 1990s, Keystone has generally had great grip, but the area does not offer the best air. In other words, these 11-second runs weren't made in huge negative DA and based on these runs, Hillegas' V6 Charger would likely run 11s in most normal summer racing conditions. Best of all, since he has all-wheel-drive, he doesn't need to worry too much about track prep, so on a slick surface, this Pentastar-powered sedan could easily beat lots of V8 machines.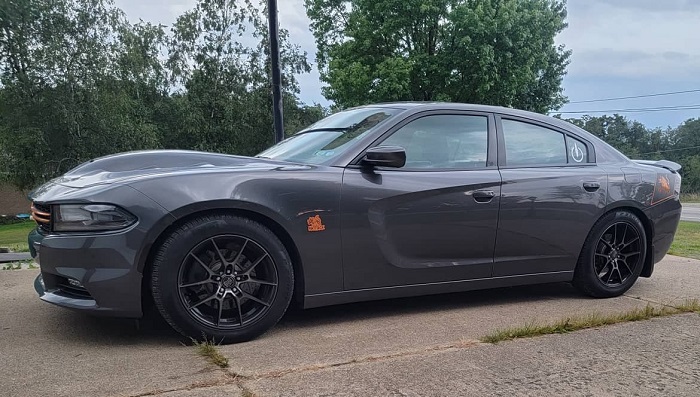 Hillegas apologizes for the quality of his videos, which we have included below. While the video quality isnt great, the point of this video is proof for the skeptics. The grainy video shows this V6 Dodge Charger running a handful of 11-second passes, running better times than the V8-powered competition.
In the video above, Hillegas' Dodge Charger ran a best time of 11.82 at 119.78 miles per hour along with a few other 11-second times. That 11.82 is the quickest quarter mile time ever run by a Pentastar-powered Dodge car, beating the previous record of 11.85 at 115, run by the supercharged Dodge Challenger of Russ Schwerma.
Congratulations to Mike Hillegas and his Dodge Charger for setting the world record for the quickest quarter mile time by a vehicle running the Pentastar V6 and for showing other V6 Dodge owners that big performance can be achieved without major drivetrain changes.