The US version of the Tonale was shown at the New York Auto Show yesterday, but most people would never know it. After the unveiling, TV people, influencers, video bloggers, and plain old photographers and writers were clustered around the Wagoneer Ls and Airflow for hours; but the Tonale sat alone and forgotten amidst two Fiat 500es.
The Tonale shares a good deal in common with the Jeep Compass, but it's by no means a simple reskin. There are two powertrain options, one hitting 272 horsepower and 30 miles of pure electric range. It includes UConnect 5 and Alfa Connect, and a rapid-response Frequency Damping Suspension (FDS) system.
This compact front-drive Alfa is 178 inches long and 72 inches wide; it has Alfa's three-part LED headlights, and various Alfa Romeo stylistic cues (including the telephone dial wheels, in an era shorn of rotary telephones).  The interior claims to be "strongly focused on the driver, with easy access to all controls for a safe, unparalleled driving experience," but oddly uses a hold-down button for heat and fan, putting style over function.
The seats are indeed quite comfortable, both supportive and cushioning, covered in leather and Alcantara suede to hold the driver in place.
The powertrain is more of a differentiator from the Compass than the styling (though the interior is quite different). The hybrid system is based on a 1.3 turbocharged engine which provides 180 horsepower; it uses a belt starter generator with a 90 kW motor which can produce 1,844 lb-ft of torque at 0 rpm. The DNA switch has settings of Dual (maximum output), Natural (automatic), and Advanced Efficiency (to get 30 miles of electric-only driving). The hybrid has a six-speed automatic.
The optional engine is a 2-liter turbo producing 256 horsepower and 295 lb-ft of torque, with a twin-scroll turbo and direct injection. This version has a nine-speed automatic. Both engines come with all wheel drive.
Bowing to the fads, the Alfa Romeo Tonale comes with an NFT certificate for recording vehicle data, which can help with resale value as it shows maintenance was done. Over the air updates appear to be part of the computer system. Level 2 autonomous driving includes adaptive cruise, lane centering, and traffic jam assistance (which keeps the vehicle at a certain distance from the vehicle in front). It also has a driver attention monitor, blind spot detection, rear cross path, and 360° camera.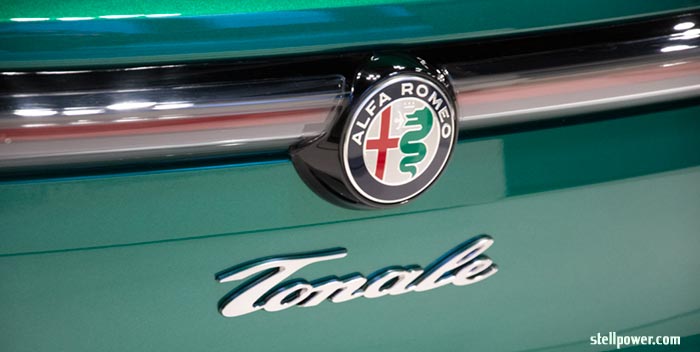 The steering is at a 13.6:1 ratio; it has an integrated brake system and optional aluminum shift paddles. Brembo brakes have four pistons and self-ventilated discs at the front. The suspension is a MacPherson style with Frequency Selective Damping shocks and an optional dual stage value active suspension setup. The active suspension uses the DNA selector for comfort and sport modes.
The Alfa Romeo Tonale is made in Italy and will start arriving in North America in the first quarter of 2023.