The current version of the Jeep Cherokee is near the end of a normal car's lifespan—though, to be fair, it is not quite as long in the tooth as the still-surprisingly-competitive Charger and Challenger. Meanwhile, the Chrysler Airflow, whatever its final name ends up being, is getting closer to actual production.
The Airflow is likely the first in a series of vehicles which assert a new Chrysler, complete with an art deco brand font (as seen above)—or perhaps a sort of early-90s revival. One shows old-time class, the other a kind of modernity. It seems clear that Chris Feuell has a vision for Chrysler, which is a good start; the last person to have a clear vision for Chrysler was Tom Gale, who set up Prowler and (Plymouth-intent) PT Cruiser for Plymouth, and was still toying with Chrysler details when Daimler came in.
Most analysts seem to think the factory that currently makes the Cherokee will be turned over to electric vehicles such as the Airflow, which seem sensible enough. The Airflow isn't quite large enough to replace the Pacifica; that will likely require another vehicle, which, based on when the Pacifica's destined to stop production, is likely to arrive by 2028, if not sooner.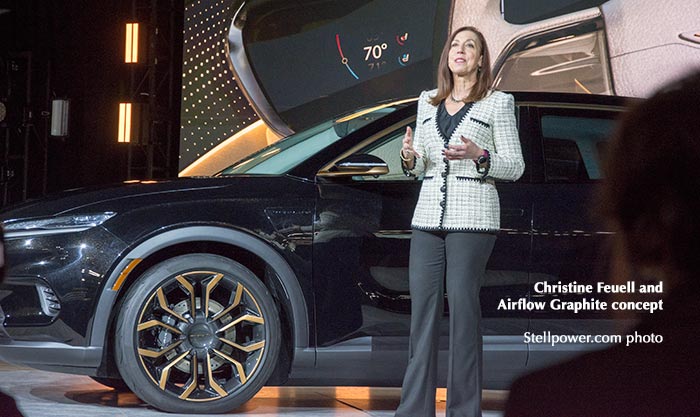 The Cherokee is likely to stay in production through mid-2023, at which point its factory will be converted to BEV production. At that point, many rumors have it moving to a RWD-based platform, though it could presumably share its chassis with the Airflow, becoming a BEV while the Compass takes its place as a midrange Jeep. While the Cherokee is a good vehicle—comfortable, Rubicon capable, reasonably priced, practical—it has failed to take off in the public imagination, and is scorned by many Jeep loyalists while it carries the weight of a vehicle with true-Jeep capabilities. Its replacement will likely either be a BEV with more clear off-road capability (á la Rivian), or a vehicle with fewer pretensions towards off-roading which, in turn, has lower cost and weight.
In the meantime, the Compass is due for a powertrain upgrade, most likely with the 2023 models, and Chrysler is due for several models—including, according to its leader, a sedan. How they will differentiate the Chrysler sedan remains to be seen, but it's possible the Charger will be gasoline-consuming while the Chrysler will sip electrons. The next year should reveal all.