Jeep chief Jim Morrison introduced the Grand Wagoneer L and then took questions. Among the things we learned during his talk was that the Hurricane would be standard on the Grand Wagoneer L, and optional on the short wheelbase (if you can call it that) Wagoneer and Grand Wagoneer. This is presumably where the $2,000 option price came from. (That price is not official.)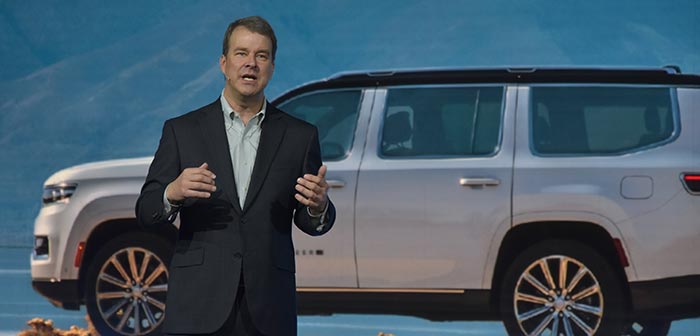 He also told the press, as a group, that the Hurricane 510 would be optional on the Wagoneer as a special edition, suggesting it might leave the options list.
In person, Stellpower's Pete Doll asked Morrison why they chose the straight six format. Morrison, who has been an avid Jeeper long before coming to lead the brand, brought up the 4.0 liter straight six, which he called possibly the best thing AMC ever did. The 4.0, when it came out, was far ahead of most other six-cylinder engines. It was more powerful than many V8 engines for years, and far more economical—with fewer moving parts.
Jim Morrison has owned Jeeps with the 4.0, walking the walk—he is an avid off-roader and can handle off-road courses with aplomb (and at far higher speeds, with greater control, than most).
He couldn't say whether the Hurricane would be used other than by Jeep, though it seems almost certain to make it into Rams—given that the Wagoneer is based on the Ram.
He also provided the general audience with some interesting new statistics. Jeep is #1 in customer loyalty again, for the 12th time in history. The Wrangler had a 7% increase in customer loyalty in 2021; and the Wrangler 4xe was the best selling plug-in hybrid in America.