This morning, Stellantis issued another teaser image of a concept vehicle that will debut next month at the 56th annual Easter Jeep Safari in Moab, Utah. Unlike the previous teasers, which came with very few hints as to what we might be viewing, the brief information accompanying this Jeep tells us quite a bit.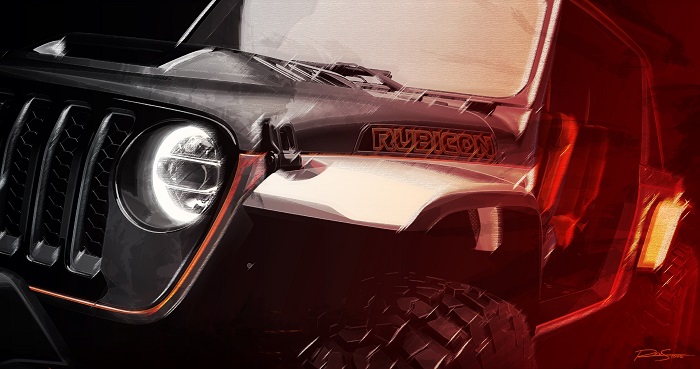 "Ever wonder what blending two mighty off-roaders like the Jeep Wrangler and Jeep Gladiator might look like? What if a truck dared to be more like an SUV to increase its departure angle? The latest Jeep concept heading to this year's Easter Jeep Safari reinvents what the ultimate terrain tackler dares to be, delivering an abundance of four-wheeling confidence and a pinch of open-air freedom."
That brief information was joined by the image shown above, which at first glance looks like an artistically drawn Jeep Gladiator. It has massive off-road tires and it appears to wear a bulging hood with a front-facing scoop, similar to the hood on the Wrangler Rubicon 392, but the mystery here is how they have made a truck "more like an SUV".
The information states that departure angle was increased, which is typically achieved by adding larger tires or lessening the amount of overhang behind the rear wheels. We can tell that this Rubicon vehicle has larger tires, but that doesn't make a truck more like an SUV. Typically, the difference between a truck and SUV is the fact that the truck has less interior space and an open cargo bed while the SUV has more interior space and no open cargo area.
In theory, to make a Gladiator more like a Wrangler, you would have less bed and more interior. Perhaps the cab of the Gladiator has been enlarged, the wheelbase stretched and the rear wheels moved back a bit, which would increase the cab size, decrease the bed size and improve departure angle. Of course, changing the wheelbase is a whole lot of work, so the simpler option would be to shorten the bed of the Gladiator, thus increasing departure angle, while extending the cabin into the bed a bit – making the truck more like an SUV.
In the long run, this is all speculation, but we will learn more about this mysterious Wrangler-Gladiator cross at the Easter Jeep Safari next month.
Click here for a look at the previous three Easter Jeep Safari teaser images.