The Jeep Wagoneer L has launched—and it's twelve inches longer than the Wagoneer, with a seven inch longer wheelbase, and a twin turbo inline six-cylinder Hurricane engine.
The new inline six cylinder is made in two versions, previously called SO (standard output) and HO (high output). The high output version is good for 510 horsepower and 500 pound-feet of torque, easily beating the existing 392 Hemi on both counts—and has now been renamed to Hurricane 510. It will be optional on the Wagoneer and Grand Wagoneer, standard on the Grand Wagoneer L.
Seating for the L is enormous; so is the cargo area, considering it has three rows of seats. The Grand Wagoneer L has the largest passenger area in its class, holding 7 to 8 people depending on configuration; it also has the best in class cargo space behind the third row.
As our model, backup photographer/sherpa Pete Doll shows, the Grand Wagoneer L has no shortage of space in the front. The middle seat, while somewhat flat in shape, had very generous leg room even as the front seat was pushed back enough to be impractical for Pete to drive it.There are also plenty of screens, along with  physical controls.
A Graphite edition was also revealed, with more clever touches than the usual "all black." On Graphite, just about everything is black except for the reasonably light gray metallic paint. It's a more striking look than pure black.
The Hurricane Six takes up a decent amount of space in the engine bay, but you can see that there is still plenty of space left over, especially on the sides.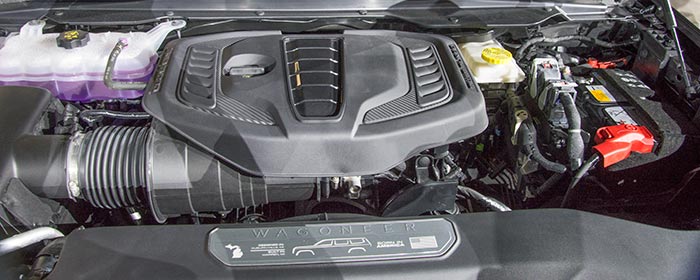 The Wagoneer sells at a premium compared with Chevrolet Suburbans, but the interior is extremely well finished and the new inline six should be a winner. Watch this space for some words with Jim Morrison, head of Jeep, who introduced the new vehicles.
Jim Morrison did say that driving the Grand Wagoneer with the new engine was a blast, and it should be; its torque range is wider than the "instant-on" 392, and both horsepower and torque are higher at peak, too. The Hurricane six should be impressive to drive, even in such a large, heavy vehicle.
The front seat of the Wagoneer L is very comfortable indeed, with generous elbow room and headroom, and a seat that feels as though it will soften blows from the road.
Stay tuned for more coverage and the Airflow later today.