It is widely expected that 2023 will be the final year for the current Dodge Challenger, and even though there are already multiple full production trim levels with right around 800 horsepower, the Mopar community wants to see the modern muscle car race off into the sunset with a bang. Mopar lovers want to see the current Challenger retire with one more super high performance package – something even more powerful than the 2018 Demon with 840 horsepower – but there are a few key roadblocks preventing Dodge from ending the generation with even more power.
What Enthusiasts Want
Right now, the most powerful Dodge Challenger to date was the 2018 SRT Demon with 808 horsepower on pump gas and 840 horsepower on 100-octane race gas. There have long been unsubstantiated rumors being spread by clickbait sites and YouTubers claiming that a thousand horsepower Challenger was on the way, packing the 426 cubic inch Hellephant Hemi, but engine development team members have made it clear that the Hellephant simply won't meet federal regulations for a production road car.
Realistically, it seems unlikely that Dodge could come up with a Challenger road car with a thousand horsepower for the final model year due to a combination of costs and federal regulation headaches. However, the new Direct Connection Stage Kits make it clear that Dodge can get up around 900 horsepower from a relatively basic upgrade package, and those kits are safe enough to the company that they don't void the factory drivetrain warranties.
If Dodge can engineer performance upgrade kits for the Dodge Challenger SRT Hellcat Redeye that yield just under 900 warranty-safe horsepower, it seems that a production package with similar power levels is a very real possibility. There are just two key roadblocks which stand in the way of a 900-ish horsepower Challenger in your local dealership – the federal regulations and ongoing production constraints.
Regulations and Production Delays
Dodge is currently working on releasing the first Direct Connection Stage Kits for the Challenger SRT Hellcat Redeye, but the company has run into two issues which have delayed the process.
First and foremost, there are some regulatory issues with these power-adding components and while we expect that the company will find a way to work around them, these issues are magnified in production vehicles. Performance upgrade packages offered by an automaker are subject to some regulations, especially on a state-by-state basis, but the regulations on production vehicles are far tougher. The regulatory issues with the Direct Connection kits would likely cause problems for Dodge in offering a production Challenger that came standard with the goodies of the 885-horsepower Stage 2 kit.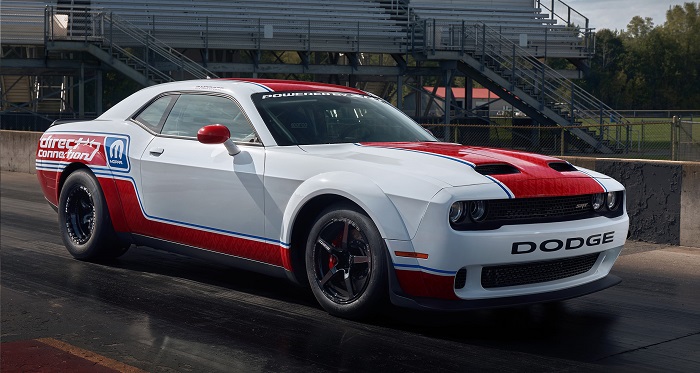 Regulatory issues are a normal, expected problem for OEM engineers who work on high performance vehicles, but the component shortages plaguing the entire industry are not expected. The microchip shortage has slowed the production of vehicles, but it has also hit the aftermarket hard, making it difficult for tuning companies to get the devices needed to install the engine tune. That shortage in tuning devices is also impacting the rollout of the Direct Connection Stage Kits while other component shortages have led to production delays and stoppages for Dodge.
The combination of regulatory issues and component-based production delays present an enormous roadblock for Dodge to create and offer one final "Super Challenger" for the 2023 model year. Even if the engineering team can develop a car and get it approved, the company may not be able to get all of the components needed to build the cars in time for the final model year.
That being said, it seems unlikely that Dodge would let the most powerful American muscle car ever slip quietly into retirement, so we are holding out hope for something hot for 2023 – we just aren't sure how hot the final model year will be.