Dundee will get a new lease on life as Stellantis builds a new-to-us 1.6 liter four-cylinder turbocharged engine for use with hybrid-electric vehicles there. The relatively new engine plant currently makes 2.4 liter WGE four-cylinders and Pentastar V6 engines; the 2.4 is only used in two vehicles now, and many believe it is in its final days.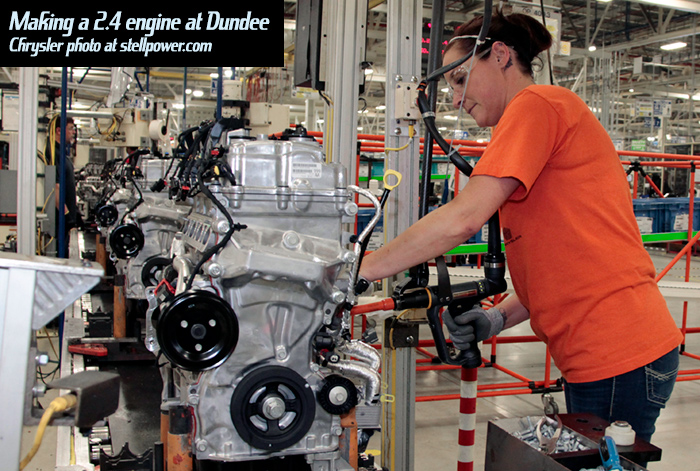 The new engine will have direct fuel injection, and power two future North American hybrid-electric models. Production is to begin in early 2025. Retooling Dundee to produce it will cost around $83 million.
Which new engine is it? (updated)
The 1.5 liter GSE powers the Alfa Romeo Tonale and many believe it will be used in the Dodge Hornet; a new version of Peugeot's EP6 series 1.6 liter engine is to replace it, eventually, as well as the current EP6CDTX. That mouthful-of-an-engine-code is a direct-injected powerplant with a twin-scroll turbocharger; its output is 201 hp and 203 lb-ft. The hybrid version is good for 296 hp, including electric motors.
Peugeot is working on a new version of the 1.6 in the EP series, presumably with another letter added (e.g. EP6CDTXH), to go with new hybrid systems and transmissions. [Updated after input from "polo"] We should have more details on this soon.
The TigerShark 2.4 will be built out in the first quarter of 2023. Pentastar Upgrade engines will continue to be built for the Grand Cherokee and Grand Cherokee L.  Blocks will be cast at Kokomo, with a $14 million investment to convert to making the new engine. The oil pans will be made at Etobicoke Casting in Ontario, with a $2 million tooling investment.