No April 26 would be complete without at least one Hemi Day story.
The 426 (as in 4/26) Hemi was created solely for racing. At the time, the ingenious Mopar cross-ram wedge engines were winning on the street, but failing in NASCAR. In 1963, executives approved engineers' plan for putting Hemi heads, which were part of the original Chrysler V8's design, onto the existing "B" engine blocks. The B engines had been developed from the ground up for easy mass production—with wedge-shaped heads. Would they work well with a Hemi makeover?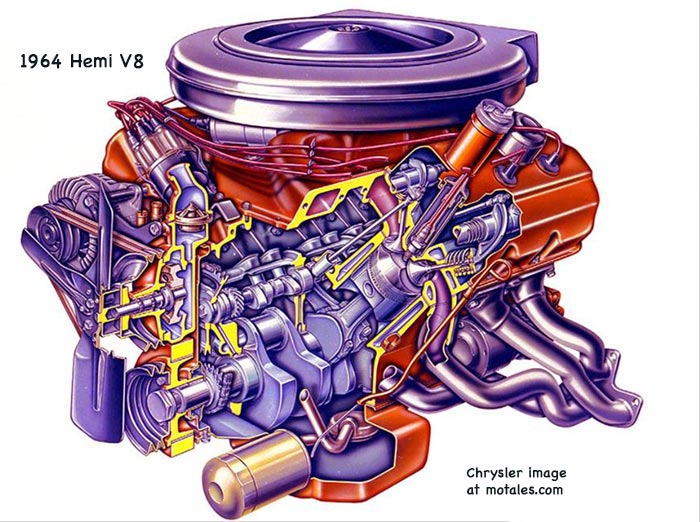 Willem Weertman, head of Chrysler engine design, later remembered that they assigned their best engine designer to the program, "with Bob Rareya and me looking over his shoulder." They had to change the block somewhat, but they were able to add on new heads with "machined Hemi chambers that just happened to have the same included valve angle as the 1951 Chrysler Hemi."  (Quotes from Allpar's interview.)
Tom Hoover and Don Moore were key in this project; Hoover, now called "the father of the Hemi," had also been one of the people behind the Slant Six Hyper-Pak, which led to the Valiant taking first through seventh place in the only NASCAR compact-car race.
The Hemi was a safe decision, overall; they knew how much power to expect, and at what cost. Engineers were very familiar with the design, only a few years after the 392 Hemi had been dropped. The engine itself was as simple as they could make it, with a single cam and two valves per cylinder; but the 426 had much larger valves, with higher lift, than the B engine. The intake went from 2.08" on the 440 to 2.25" on the 426; the exhaust diameter grew by 0.2" to 1.94"; and the lift went from 0.450" to 0.490".
The Hemi did quite well in NASCAR racing in 1964, but the authorities quickly, and somewhat fairly, pointed out that they did not sell any at retail; it could hardly be called a stock engine. It was, in short, banned from 1965 races, returning when the Street Hemi hit production. That was a story in itself; the Street Hemi had to be workable with relatively little maintenance, durable, and able to start and run well under all temperature conditions. Bob Rodger and Robert Cahill put their heads together and came up with a list of specifications for Engineering, which came through with flying colors. It was an extremely expensive engine for stock cars, even before the problem of beefing up the rest of the car with a stronger suspension and better brakes were added in; Chrysler may have lost money even adding $900 to the price of cars bearing the Hemi. The official rating was 425 horsepower (gross) and 490 pound-feet of torque, on premium fuel.