Many recall the original Dodge Tomahawk concept motorcycle, which ended up being sold with few changes as "rolling sculptures" through Neiman-Marcus during a bizarre period of Mopar history. The motorcycle certainly caught the public imagination, but after the copies were sold off, it seemed like the Viper-powered three-wheeler was forgotten within Auburn Hills.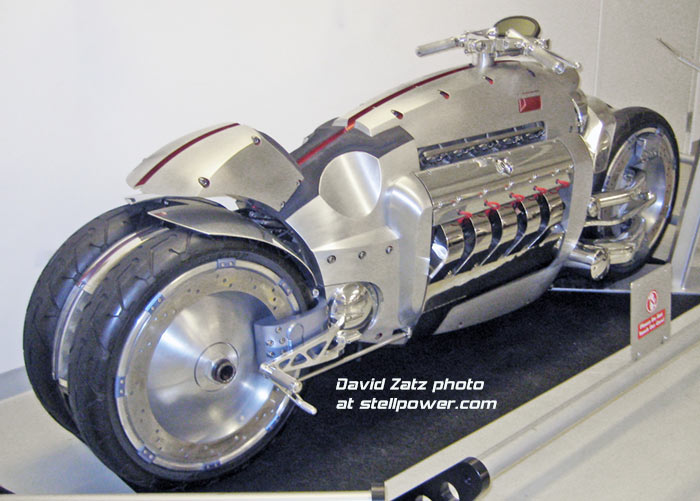 That was not the only Tomahawk, though. How many people remember the "SRT Tomahawk GTS-R Vision Gran Turismo," in what can only described as a mismatch of names, from Sony's GranTurismo? This concept appears to have been digital only, and it certainly was not meant for mass production, but it may give another hint on what FCA US is up to with their new trademark of the Tomahawk name for "passenger automobiles."
Some outlets have already stated that the future holds a Challenger Tomahawk, and this may be true; after all, a special Challenger is expected for 2023, and Dodge has promised to unveil three new cars, one of which is sure to be the Hornet, next month.
On the other hand, the Tomahawk could well be a standalone car or crossover, not a special-edition Challenger. If so, it will have to be pretty impressive, or at least outrageous, to deserve the name.
The trademark was filed on June 23, 2022—just a couple of weeks ago—and is awaiting an examining attorney; if it passes muster, it will be open for challenges. Trademarks take a good deal of time to be granted, and must then be used; if they are not used, they are lost. This may be the fate of the Cuda trademark, first filed in October 2020 and still unused; and the Atlantic trademark, filed at the same time and, like Cuda, extended but unused afterwards.