With nearly a decade on the same platform, the Cherokee has waxed and waned in popularity. While it's a comfortable vehicle whose TrailHawk version crossed the Rubicon Trail, some of the Jeep faithful still deride it, and there are still 2021s in inventory despite a vast car shortage. The assembly plant that makes it has been running just one shift, and shutting down for weeks at a time. It's clearly time for something new, and perhaps we have seen its future: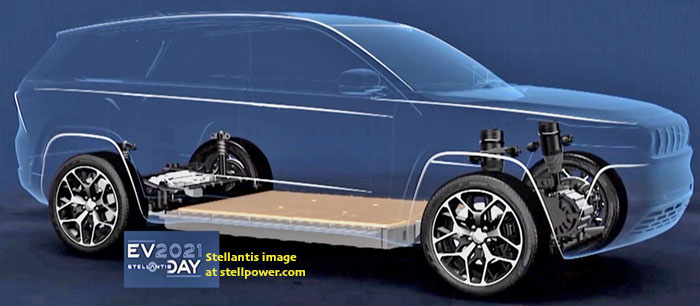 Turning the Cherokee into a BEV would make it unique for the segment (either electric SUVs or midsized crossovers). While the Rivian's R1S has almost unbelievable off-road chops, it listed at $75,000 before a hefty price increase, and precious few are being made. If the Cherokee was to be sold at $35,000, people would probably not care much if it has a bit less off-road capability or can't do 0-60 in 3 seconds. This could explain rumors that the Cherokee plant will switch to making electric vehicles.
Jeep has made some fairly serious changes to the lineup, resulting in the 2022 Jeep Cherokee—which dropped the 2.4 four-cylinder to have a base 3.2 V6, and which has just a single FWD variant, presumably to advertise 29-mpg highway ratings. But that seems like a stopgap.
There's also the possibility that the Cherokee will be replaced by something based on the Stelvio's platform, or even on the upcoming large-car platform; or perhaps it will be merged with the next generation of the Compass. Regardless, it sits in one of the highest-volume segments without achieving especially high volumes; while Jeep has been focused on the new Grand Cherokee, even newer Wagoneer, and upgraded Renegade, the Cherokee can't be left alone much longer.
Right now the Cherokee's future is still speculation, and the vehicle shown above really fits the shape of the Grand Cherokee quite well, suggesting a forthcoming BEV version of that tried-and-true big seller. But with no substantive rumors or news on the future of the Cherokee, it's worth considering a BEV as a possibility, too—unless the "standard V6" and optional hot-rod-like 2.0 turbo do the trick.