Stellantis had a fine first year in 2021, with net revenues of €152 billion ($174 billion). Adjusted operating income nearly doubled, reaching $20 billion, with an 11.8% margin; all segments were profitable. Net profit was $15 billion, nearly triple the prior year.

Stellantis claimed that merging Peugeot and Fiat Chrysler yielded a $3.6 billion net cash benefit. The company is positioned for hard times, though, with $71 billion of liquidity.
Shareholders will be rewarded with a $3.7 billion dividend; the stock has already shot up by 7% in early trading. Profit sharing is to be $2.2 billion. For 43,000 UAW employees, that will be up to $14,670—the largest payout in 35 years.
Brands. Citroën and Fiat were defined as "core" brands. Jeep is defined as "global SUV." Chrysler, Dodge, and Ram were defined as "American brands." Opel/Vauxhall and Peugeot were defined as "Upper Mainstream."  Commercial vehicles included Fiat and Ram. Premium was Alfa Romeo, Lancia, and DS.
North America had the highest profit margin in the company, with the highest U.S. retail average transaction price of the Big Three, at $47,000 per car. This is up around 20% from 2020. Dodge Charger had a 51% share of the U.S. full size sedan market; the Wrangler 4xe is the top selling PHEV in the U.S. retail market, with 29,000 sold.
The profit margin in North America hit a record 16.3%, with net revenues of $79 billion and adjusted operating income of $13 billion—more than double 2020.
Ram had its best ever U.S. commercial fleet market share at 18.7% for 2021. The brand had its best ever U.S. pickup market share, at 26.2%. The Ram had the highest actual transaction prices in its class, at $51,000 per truck, for 2021. The Ram ProMaster BEV will be launched in 2023; Amazon will be the first commercial customer.
North American profits rose almost entirely due to the combination of a more profitable vehicle mix, and higher transaction prices—which were both likely the result of shortages.
Stellantis has memoranda of understanding with two separate battery makers for American joint ventures to provide at least 63 GW-h of cell capacity by 2025.
EU30. Stellantis was the top automaker in region, with a 34% market share. The Peugeot 208 was the top selling vehicle. The low emission vehicle (LEV) mix went to 18% in December 2021, nearly doubling the January 2021 number. Opel delivered its first fuel-cell medium vans. Overall, Stellantis was the #1 seller of BEV vans in the EU30.
South America. The AOI margin was 8.3%; market share was 22.9%, with a 32% share in Brazil and 29% in Argentina. Jeep was the SUV market leader, with a 14% market share. Fiat was the top selling brand in Brazil and South America as a whole; the Strada pickup was the top seller.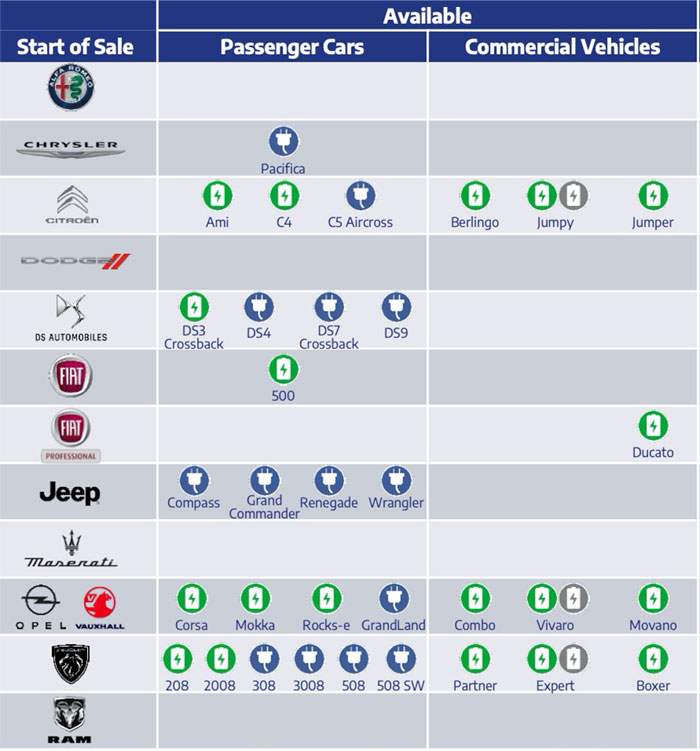 Other regions. Wrangler hit record sales in the Middle East. Stellantis shipments rose by 6% in the Middle East and Africa, with market share growing in most major markets. Eurasia market share grew to 1.6%.  The company is planning to take a majority share in its GAC joint venture to increase Jeep sales in China; a new Citroën C3 was developed in India and will be made there in the first half of the year.
Opel/Vauxhall market share went up to 4.3% in the EU30 and 6.2% in Germany. The Corsa is #1 in Germany and the UK with 16.5% and 15.1% market shares. Peugeot has the best selling vehicle and B-sized SUV in the EU30 with the 208 and 2008. Global Peugeot sales rose by 5%. A quarter of Peugeots sold were low emissions vehicles.
Across the world, the company had its best ever year for pickups, with over a million sold in 2021.
Lancia is to be reborn, becoming 100% electrified in 2024, with only BEV launches after 2026. DS will only launch BEVs from 2024 on.
Maserati's global market share grew to 2.4%; in North America and China, Maserati's share grew to 2.9% and 2.7%, respectively. More important, Maserati returned to profitability with its margin rising to 5%. It will run in Formula E. Global sales rose 41% as the industry rose by 6%. Gran Turismo is scheduled for a 2023 launch.
Carlos Tavares said that there was more potential for savings and higher pricing power in Europe. He also said, several times, that the strength of Stellantis was its diversity, and that he and others enjoyed working with people from different backgrounds. He also said that the journey was not just exciting for Stellantis insiders, but that the company was getting a surprising number of resumes from people in the tech industry.