Around a decade ago, European Union (EU) authorities discovered that most diesel-powered cars violated the spirit of emissions laws; some went further, illegally detecting the test and changing engine behavior accordingly. The EU severely toughened the rules, to the point that some automakers have concluded that, by 2030, only electric vehicles will be marketable in the EU.
In North America, there is an increasing attraction to electric cars as Tesla takes sales that used to go to Lexus, BMW, and Mercedes. Delivery services, which usually have fuel economy in the single digits, are eager to take electric vans to slash operating costs. The writing is on the wall: those without electric cars may not have a future.
The mandatory and market-driven parts of the equation are driving Stellantis to go from its current 19 battery-electric vehicle (BEV) nameplates to at least 75 by 2030. At that point, new models in Europe will all be electric; half of their new models in the United States will be electric. Because it's more important to sell BEVs in Europe, Stellantis plans on releasing 60 BEVs in the EU through 2030, compared with 25 in the United States.
Stellantis projected that BEV sales will go from around 200,000 to 5 million per year during this time. As a result, every new launch will include a battery-electric, aside from heavy duty trucks, which will opt for hydrogen fuel cells. In the United States, upcoming BEV launches include:
"Pure offroad UVs" (Jeep 2024, seemingly Wrangler but possibly a new Cherokee)
"Light duty pickups" (2024 Ram 1500)
"Commercial vans" (2023 Ram ProMaster)
"Lifestyle Family SUV" (2024 Jeep)
Muscle Cars (2024 Dodge)
"Lifestyle Family Cars" (2025 Chrysler; shape indicates a car, not a minivan replacement)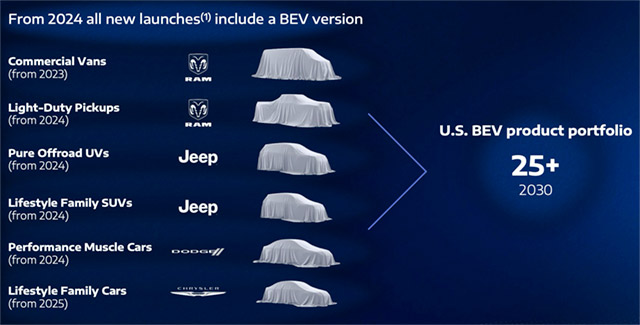 The first three launches will be:
Jeep in early 2023 (likely Renegade-sized)
Ram ProMaster BEV in 2023 (see the upgraded 2022 ProMaster)
Ram 1500 BEV in 2024
The company has not released details on the Ram 1500 BEV, but has released concept drawings and claimed a top 500 mile range.