While the American automakers are turning most of their attention to electric vehicles, the aftermarket tuning world for vehicles like the Dodge Charger SRT Hellcat are as strong as ever. Over the past few years, I have talked about many modern Mopar tuning shops, one of which is Satera Tuning in Illinois. Jeremy Satera has built and tuned many high performance Gen III Hemi cars, becoming well known in both the 392 and Hellcat communities for making big power.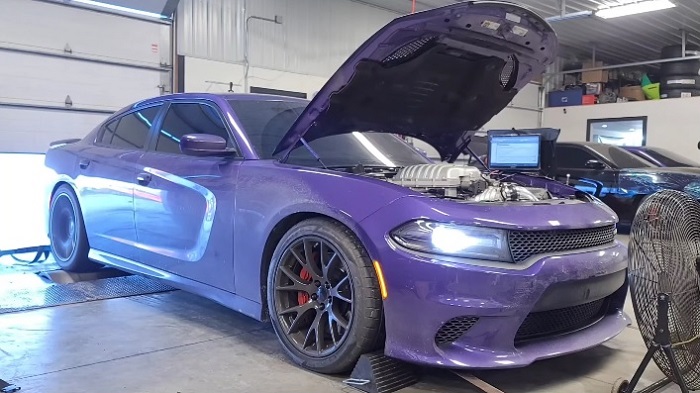 Satera recently shared a video to Facebook showing one of his customer's Hellcat Charger working out on the dyno and the results are nothing short of stunning. This car is owned by Jeffery Robinson for roll racing and drag racing, and with more than 1400 horsepower at the rear wheels, this Mopar super sedan is a formidable foe for anything on the street or track.
1,422rwhp Dodge Charger Hellcat
The Hemi in this 2016 Dodge Charger SRT Hellcat has been enlarged from 6.2 to 7.0 liters, or 426 cubic inches, by Better Built Performance. This big cube Hemi is topped by a set of ThiTek Big Bear cylinder heads and a gutted OEM supercharger. The blower is gutted to allow the boost pressure from the 88 millimeter turbocharger setup to flow smoothly into the engine, with this aftermarket forced induction system being built by Satera Tuning. The engine also features a FAS supercharger lid spacer, Snow Performance water injection, a Fore Innovations triple pump fuel system, ID1700x fuel injectors and a Turbosmart Eboost2 boost controller. Of course, the engine is tuned by Jeremy Satera to run on the unique Satera Spice Signature Blended E85 racing fuel.
Power is sent to the rear wheels by means of a custom built HP90 8-speed automatic transmission and a custom torque convertor from Pure Drivetrain Solutions. Finally, a Driveshaft Shop driveshaft and axles, a 3.09 rear gear set, an AAD rear differential brace, BMR rear control arms and a TCE 15-inch rear wheel conversion kit helps put all of that power to the ground.
The Big Number
In the video below, this Plum Crazy Dodge Charger SRT Hellcat is making a hard pull on Satera's dyno. On this quick rip, with boost pressure peaking at a whopping 28.89 psi, this four-door sedan lays down 1,422.48 horsepower and 1,293.68 lb-ft of torque at the rear wheels.
For reference, a stock 2016 Dodge Charger SRT Hellcat on Satera's dyno makes between 630 and 650 wheel horsepower, which is in-line with all of the reasonable dyno shops in the Hellcat community. In other words, this Hellcat Charger is making more than double the output of a stock Hellcat Charger, but with the hood closed, it could pass for a stock car. It is hard to call the fastest sedan in the world a sleeper, but when it looks stock and has more than 1,422 rear wheel horsepower, it is just that. Of course, it has a very different sound than a stock supercharged Hellcat car, but there are few external cues that this sedan is the most powerful car that Jeremy Satera has ever had on his dyno.
While this car is built to make monster power, Robinson points out that this Charger was built with street duty in mind. It will not be a daily driver, but he plans to drive it plenty in addition to attending the various racing events. This car will be heading to TX2K later this year along with making stops at the local drag strip, with the hopes of running in the 8-second range. In the meantime, crank up your speakers and enjoy this 1,422rwhp Hellcat Charger on the dyno.