The 6.4 Hemi, or "392" (by cubic inches), is a reasonably efficient and powerful engine; it has a well-engineered cylinder deactivation system, cam phasing, and a 485 horsepower rating in the Grand Wagoneer. Why would a mere inline six-cylinder engine be better?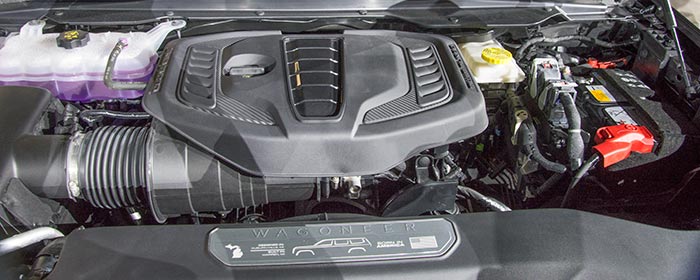 Jeep just released the gas mileage of the twin-turbo Wagoneer, and now we have three answers to that question.
First, the six-cylinder provides more power and torque—510 horsepower and 500 pound-feet. What's more, it has much more power available at lower revs.
Second, it provides 1 mpg better mileage in the city and 1 mpg better mileage on the highway. That might not be true when towing, but most people don't tow most of the time.
Third, the inline six is over a hundred pounds lighter than the 392 Hemi, which means the truck has a better power-to-weight ratio (and presumably better front-rear balance).
The 392 Hemi is rated at 13 city, 19 highway; the Hurricane Six at 14 city, 20 highway, with, again, higher peak power and higher midrange power. It can still tow 9,750 pounds. (Notice the engine's official title, in the fine print—"3.0L Hurricane Twin-Turbo 510 I6 engine.")
The standard output Hurricane will presumably achieve better mileage. We don't know if it will be used as an option in the standard Wagoneer. The 510 is standard in Grand Wagoneer L and optional on the other Wagoneers, including Wagoneer L.