FCA US' market share has increased in the first half of 2022, as competitors lost more ground than Stellantis' US group.
So far in 2022, every automaker other than Tesla and Polestar has lost sales, in some cases by rather serious margins (Nissan dropped by 32%, for example). The former Chrysler brands, coupled with slow-selling Fiat, Alfa Romeo, and Maserati, dropped by about 15% in a market which dropped by 18.5%.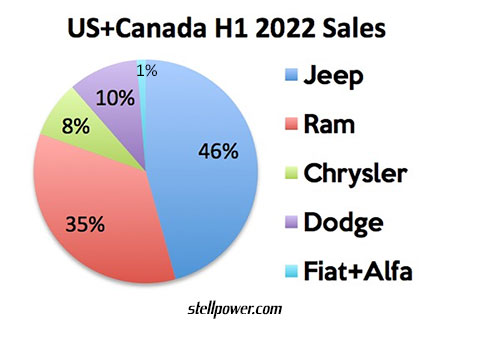 Among the Stellantis brands, in order of U.S. sales, we have:
Jeep – dropped by 7%
Ram – dropped by 21%
Dodge – dropped by 33% (Journey and Caravan were in 2021 totals)
Chrysler – rose by 13%, due to minivan gains
Alfa Romeo – dropped by 34%; note that Alfa sales are less than a tenth of Chrysler sales, which were less than a fifth of Jeep sales
Maserati – rose by 12.6%
Fiat – dropped by 66% to just 589
Among the major automakers in U.S. sales, we have:
Toyota – the former #1 fell by 19% to 1.05 million
GM – the old and new #1, fell by 18% to 1.09 million
Ford – falling by 8%, thanks to a surprise sales hike in Q2, it ended up with 910,000 (0.91 million) sales
Stellantis (FCA US / "Mopar") – down to 817,568
Hyundai-Kia – its cars are in high demand and commanding up to $5,000 above list, but supply is short; the total was 702,875, down 13%
Honda – how the mighty have fallen! Down 39% to 506,207
Nissan – down 32% to 432,524 (including Mitsubishi)
Subaru – down 18% to 263,795
Volkswagen – the company that includes Audi and Porsche was down 29% to 262,690
Tesla – one of just two gainers, it rose by 47% to hit 228,700, based on Automotive News estimates
Mercedes and Volvo have not checked in yet; Mercedes should be close to BMW's roughly 165,000 sales. If we exclude both, we get a 2021 first half total of 8.1 million and a 2022 first half total of 6.6 million. FCA US' share of this is 11.9% for H1 2021, rising to 12.4% for H1 2022. If we ignore the Italian brands, we get to 11.7% for H1 2021 and… 12.3% for H1 2022. (These numbers will fall slightly when Mercedes and Volvo are brought in.)
These are in line with past Chrysler sales standards, going back to the 1960s. Average transaction prices above those of GM and Ford are unusual, though.
Also see: