Earlier, we reported on the Jeep Wrangler's infotainment system updates, which include giving each and every model the same huge center screen—a screen kept horizontal and in "widescreen" format, so that it doesn't stick up out of the dashboard. It's a nicely integrated setup which fits right in:
The screen does have a good deal of added utility when you consider its use on trails—in conjunction with the new trail maps feature. A limited number of trails (62) are included for free, and hundreds others are available on subscription. (This is late availability and appears to be an option rather than standard.)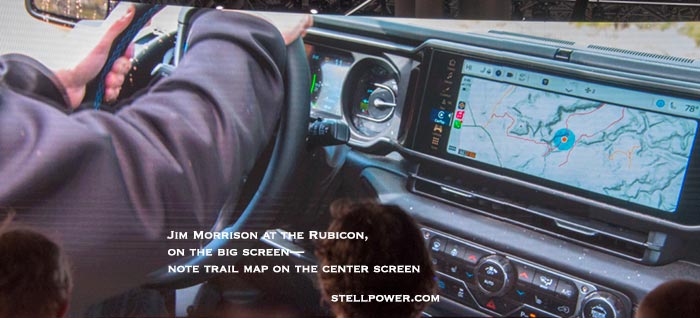 The navigation system brings the driver right to the trailhead, then navigates along the trail itself, which is handy. In the middle, between the usual gauges, is a new gauge cluster screen. These all appear to have had some level of waterproofing, given that Wranglers occasionally are expected to water. That is likely why no prior Wrangler has had power seats:
The new power seats are more comfortable than expected and seem deeper and more form-fitting as well. This suggests that Jeep is putting more cash into the seat structure itself, as well as adding power controls. Going back to the screen, though, it seems apparent Jeep engineers and designers took their time and did things right with these upgrades; everything looks well integrated and quite upscale, and the controls appear to be well designed for use, too. They appear to reach Chrysler's high standards for ergonomics and they feel good, too. The company even changed the dash vent design to work around the bigger screen.
Jeep has increased affordability for the Wranglers without actually lowering prices, by putting in features people would usually pay extra for. Lowering prices could hit resale value, which is so high that 85% of all Wranglers are still on the road (or so the company said). The alternative is to add all sorts of former options and make them standard, and to make popular options available on lower-level models. That's why the base Sport model now has a big screen; why the Sport S has a 4xe option; why the midrange Willys has gained all sorts of new equipment including stronger off-road gear; and why the Rubicons have full floating axles and other updates.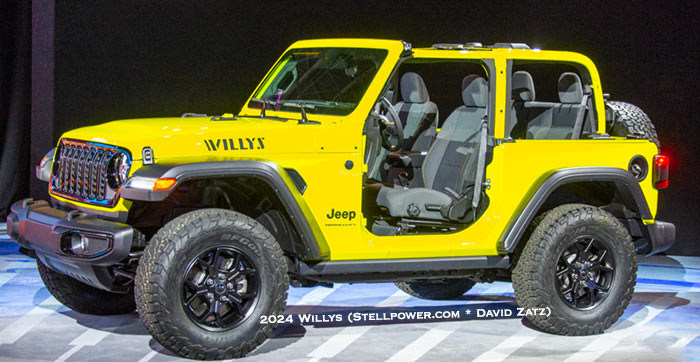 At the low end, there is a new SportS  4xe which means that buyers of the cheapest Wrangler can pay a bit more to get a much, much faster engine, which can be driven around on electric-only for many commutes (or for short trails). The 4xe setup provides far more power (375 hp, 470 lb-ft total) than the V6 engine with roughly the same gas mileage—and if one has cheap electricity, it can save a good deal of money over time. Even this model gets the 12.3 inch touch screen and UConnect 5, wireless Apple CarPlay and Android Auto, front USB-C ports, rear USB-C and USB-A ports, power windows and locks, forward collision warning, adaptive cruise, side airbags, Gorilla glass windshield, and so on.
The very base Sport is not too different, gaining a 12.3 inch touch screen and upgraded soft top; but the S gets the adaptive cruise, forward collision warning, and stronger windshield. The Willys has been toughened up with rock rails, rear locking differential, and 33-inch tires. The Sahara gets LED headlamps, heated seats, and heated steering wheel. The High Altitude (silver car above) has a great deal new luxury equipment, while the Rubicons get a towing package, auxiliary switches, and full-floating rear axle.
The Rubicon X gets an absurd amount of new standard luxury features, while the Rubicon 392 gets the Xtreme 35 package, more sound insulation, off-road camera, and heated seats and steering wheel. Many were not expecting the 392 to return for 2024.
Every 4xe gets the Power Box, with four 120-volt AC outlets. Rubicons can be ordered with front Warn winches integrated into the steel bumpers (as shown above).
Ordering has been open for a while, but even dealers didn't know what they were getting. Now they do—a restyled grille which makes it easy to dismiss all these changes, but also more capability in the Rubicon and Willys, and many more luxury features in the others.
This is a serious attempt by Jeep to increase their value proposition, without changing the prices. Whether it's too subtle or not, time will tell, but the 2024 Wrangler is a definite improvement on the 2023—and the next major upgrade is reportedly set for 2027.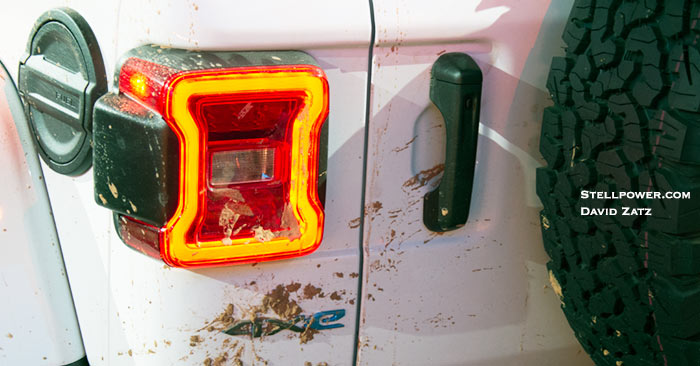 The Wrangler debuted at the New York Auto Show, which is open from April 7-12, 2023. 
Also see:
And on the Ram BEV also unveiled yesterday: