J.D. Power and Consumer Reports both released the results of their surveys recently, and there's not much in common.
The leader in J.D. Power's three-year dependability study was Lexus, Toyota's luxury brand, followed by Genesis, Hyundai's luxury brand, and then Kia. BMW was just about average.
For Consumer Reports readers, BMW was right at the top, followed by Subaru (well below average by J.D. Power) and Mini. Lexus was at #4, with the same score as Honda—a brand that, by J.D. Power lights, was below average. One key factor: the CR reports include not just reliability but also their own opinions about the cars' characteristics.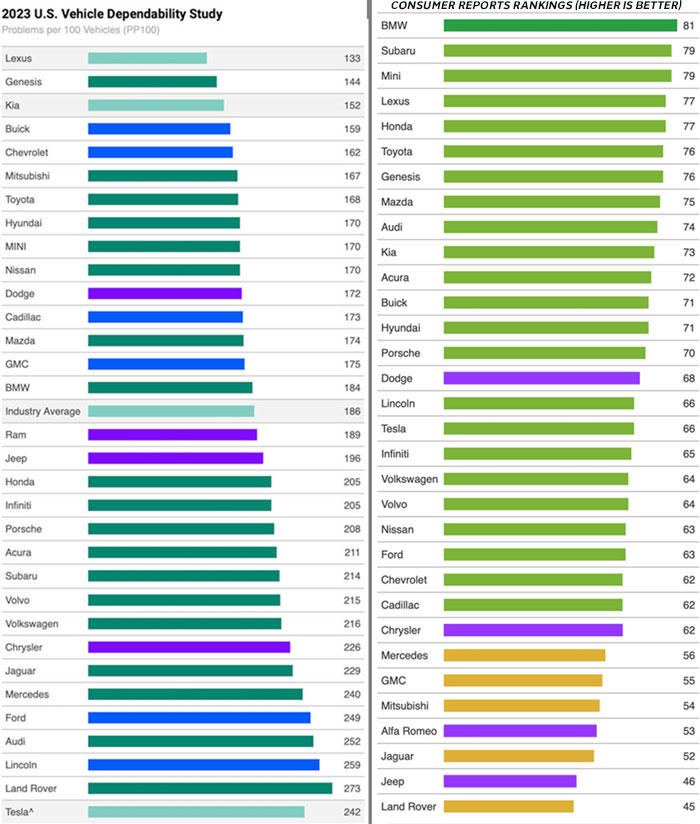 Consumer Reports chart via Consumer Reports, re-colored in places (purple represents STLA brands). Vehicle Dependability™ is a trademark of J.D. Power. Please do not use either image without proper attribution to J.D. Power and Associates and Consumer Reports.
Looking at the Mopar brands, we see just two in the green at Consumer Reports; Dodge, which is about the middle of the list and between Porsche and Lincoln; Chrysler, which is the lowest of the greens (we have dyed it purple); Alfa Romeo, which is deep in the embers; and Jeep, which is second worst, bettering only Land Rover.
The one thing the two have in common is Land Rover being at the bottom. JDP ranks Tesla quite low—between Mercedes and Ford; CR rates it fairly high, in the green, between Lincoln and Infiniti.
Chevrolet and Buick are major success stories for GM, coming in at #4 and #5 in J.D. Power's three-year Dependability Study. They are less well positioned in the CR report, with Buick coming in just above Hyundai in midpack and Chevrolet near the bottom of the greens—nick and neck with Ford and Cadillac. (No GM brand is below average on the JDP list. GMC, Cadillac, and Chevrolet are all below average in CR.)
How do we reconcile these? To start, the Consumer Reports list combines multiple car ages, while J.D. Power is just looking at three years. The methods the two use are different, with J.D. Power arguably having superior research methods given Consumer Reports' limitations. Among other things, CR only surveys its own readers, and it asks people to define "serious" problems while JDP looks at all problems. CR's stats combine reliability, performance, and safety, while JDP looks only at reliability.
Oddly left out of the whole Consumer Reports ratings list was Ram, possibly assigned to Dodge and possibly ignored entirely—though GMC was included.