When the 2025 Ram 1500 REV all-electric half-ton pickup reaches dealerships in the latter portion of 2024, it will only be offered in a single configuration.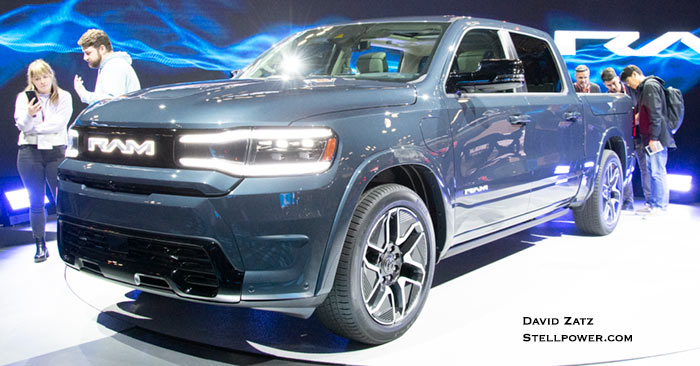 The production version of the electric Ram pickup will only be offered in the four-door Club Cab, short bed layout that has been shown, according to a Ram Trucks representative talking with Stellpower's David Zatz during the initial media day of the New York International Auto Show.
The production-friendly variant of the 2025 Ram 1500 REV made its auto show earlier this week in New York; only the concept version was on display in Chicago earlier this year. With the production debut came loads of key details, including the power figures, battery system options, range, towing capacity and more. What they did not address was which cab and bed configurations would be made, so Dave asked one of the representatives on hand. That was when we learned that the truck shown here displays the only configuration available for the 2025 Ram 1500 REV when it begins hitting the street sometime late next year.
Some people might question why Ram chose a relatively large truck for their first all-electric half-ton, rather than something like a short cab, short bed truck that would weight far less. First and foremost, Ram hasn't offered a two-door, short cab truck in this generation of half-ton trucks and with the massive popularity of larger cab, four-door trucks, it seems unlikely that the company would work-up a chassis for that small truck.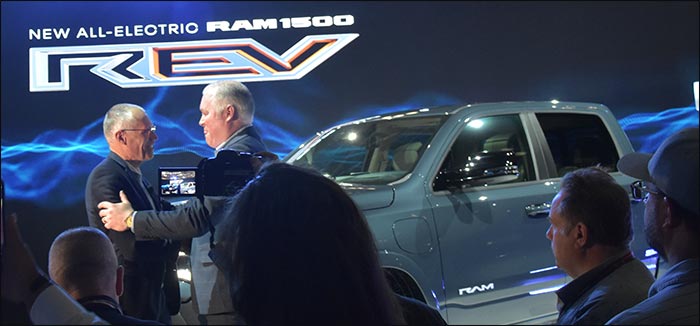 Of course, they could have used the smaller Quad Cab design, which is a touch smaller and a bit lighter, but we should keep in mind that battery location is a key focus of chassis design for electric vehicles. The batteries are huge, so they take up quite a bit of space, and companies want to do their best to have them centered as much as possible within the frame for added safety. They are generally located between the axles, which is the area that is shortened for smaller trucks. Having a drastically shorter electric truck would likely require unique chassis architecture design so preserve a safe spot for the battery. (In this case the frame as specially designed to curve outwards and provide more protected space for the battery.)
This does not guarantee that we will never see a Ram 1500 REV with a different cab or bed length. If electric trucks become the go-to for the majority of the industry, the company will be more likely to create more options in the future, but for the time being, offering a single configuration will help keep costs low until there is clear demand for an electric Ram 1500 with a small cab or larger bed.