The Street Car Takeover racing season began in late February at Bradenton Motorsports Park and among the spread of classes was the Women & Wheels class. As the name suggests, this class is made up entirely of women drivers and well-known Mopar racer Kate Toutkoushian took the class win in her Furious Fuchsia Dodge Challenger.
Women & Wheels
The Women & Wheels class at the Street Car Takeover events is a fixed-dial bracket class on a .400 "pro tree". The fixed dial means that all of the racers in the class set their dial-in before the first round of eliminations and that is their dial number throughout all of the elimination rounds – they cannot change their dial-in from round to round.
If you are unfamiliar with bracket racing with a dial-in, it is a handicapping system that has each driver set a "dial-in", which is the time that they expect their car to run. If they run quicker than that time, the "break out" and lose, so the idea is to run as close to your dial-in number as possible without going quicker. For example, if one car dials 11.00 and the other dials 12.00, the 12.00 car gets a 1 second head start, so if both drivers are honest about their dial-in and their reaction times are good, races should be very close at the finish line.
Some other key points of the Women & Wheels class are that every round is set up with a chip draw to determine which racers go head to head and they allow re-entry after the first round.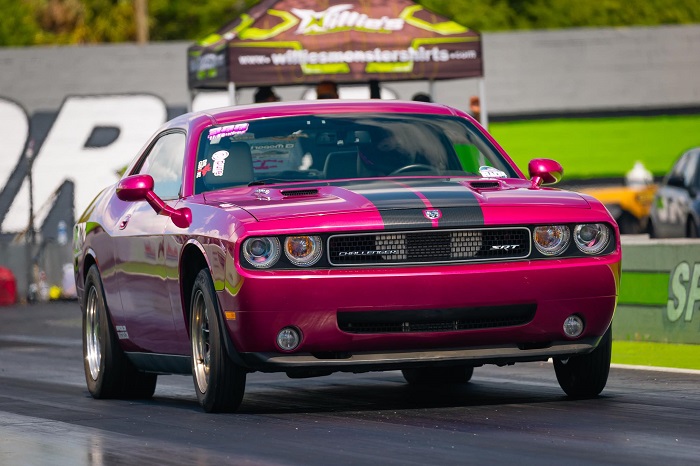 Gary Rhudy of DragCoach.com was also on hand to help provide assistance for newer drivers to get the most out of their vehicles, bringing with him decades of racing experience.
Kate's Furious Fuchsia Dodge Challenger
Kate Toutkoushian's Dodge Challenger SRT8 is powered by a 6.1-liter Hemi that makes quite a bit more power than stock with the help of a ProCharger D1S supercharger, HHP fuel rails and injectors, a Fore dual pump fuel system, Diablosport tuning software and a tune from High Horse Performance.
The power from this blown Hemi is sent to the rear wheels by means of a new-for-this-season Sipple Speed and Performance NAG1 transmission with a TransBrake, a PTC torque convertor and a Stage 6 two-step. Also new for 2023 are the Lakewood 90/10 front shocks and Viking double adjustable rear shocks, which help optimize weight transfer on the launch, with these off-season upgrades having been performed by Starks Performance in Essex, Maryland.
Her best elapsed time in the quarter mile is a 10.77 at 129 with the old transmission and suspension setup, so with the 2023 upgrades, Kate will be looking to run deeper into the 10s later this year.
Winning SCT Bradenton
Kate Toutkoushian and her Furious Fuchsia Dodge Challenger SRT8 picked an 11.05 dial-in for the Women & Wheels class, with Rhudy (also her boyfriend), hoping that the weather would improve and the car would get a touch quicker as the day went on. Instead, the weather got worse, but she managed to run solid numbers and stay on her dial-in throughout the elimination rounds. Also, thanks to a series of strong reaction times, Kate found herself out ahead of her competition far enough to let off on the big end, reducing the chances of breaking out.
Toutkoushian went five rounds to win the Bradenton SCT Women & Wheels class, beating a 9-second Ford Mustang and a 9-second Cadillac CTS-V along the way. She got lucky and had a single-run in the semifinals due to an uneven number of vehicles and in the finals, she took down a Chevrolet Camaro SS to wrap up the win.
For a closer look at this Furious Fuchsia Dodge Challenger SRT8, click here to check out Kate's Instagram channel. The incredible on-track action shots shown here are provided by Michael Connor, and you can check out more of his work by clicking here.