Jeep has officially unveiled the concepts for the 57th annual Easter Jeep Safari which takes place on April 1-9, 2023 in Moab, Utah. Here they are—all seven of them on one page, including one 1978 "SJ" Cherokee merged with a Wrangler Rubicon to form an entirely new beast; an all-electric Wrangler; a purple-pink model; a two-seater Grand Wagoneer with a popup camper built in; and a few others.
Jeep Wrangler Magneto 3.0
The Magneto concept line was designed to test, discover, and push the boundaries of 4×4 electrification. The 2021 concept was a full BEV with high mobility, based on the 2020 Wrangler Rubicon two-door; it had a custom-built axial flux electric motor connected to a six-speed manual transmission for ultimate control. The motor was tuned for up to 273 lb-ft of torque and 285 horsepower.
The 2022 Magneto 2 increased the power to 600 amps, allowing up to 850 lb-ft of torque to the wheels and 625 horsepower for serious rock-climbing challenges. The Magneto 3.0 has a more efficient motor with higher torque and new programming, for a 20% increase in useable energy and range. The driver can now choose between low and high power—the original 285 hp/273 lb-ft or a hefty 650 hp/900 lb-ft. In addition, two-stage power regeneration allows normal driving or "enhanced brake regeneration" (the generators create more drag when the driver isn't using the accelerator).
Finally, the Magneto 3.0 has an aggressive hill descent mode, selectable in low range, for "one-pedal" off-road driving.
The Magneto 3.0 concept has Dynatrac 60 front axles (5.38:1 ratio), Dynatrac 80 rear axles (5.38:1 ratio), 20-inch off-road beadlock wheels, 40-inch mud terrain tires, and a custom 3-inch lift.
For ease of access, the door opening has been swept back an additional six inches; the B-pillar was moved rearward 60mm from stock to make way for a custom anti-roll bar. The front fender was stretched back on the trailing edge two inches. The windshield has been raked back 12 degrees to give the side view a "chopped" roof feel without shortening the front glass.
Jeep Magneto 3.0 has an updated paint scheme that pays homage to all three evolutions of the concept vehicle; and the front seats have been re-trimmed in a rich blue leather and adorned with red accent stitching to match the exterior. The rear seats have been removed and the floor has been Rhino-lined in Surf Blue for added functionality and durability.
Jeep Scrambler 392 Concept
Originally introduced in 1981, the Jeep Scrambler (CJ-8) was the Jeep brand's first convertible, compact truck. Highly capable and versatile, this unique small pickup truck was similar to the CJ-7, but featured a longer 103-inch wheelbase and a long rear overhang for increased cargo space.
Fast forward four decades, the Jeep Scrambler 392 concept builds on the fun, open-air origins of the CJ-8 with a powerful twist. Though a V-8 engine was never offered in the CJ-8, the 392 Scrambler concept offers impressive power and incredible torque with its 6.4-liter HEMI® V-8 engine (470 horsepower and 470 lb.-ft. of torque).
The Jeep Scrambler 392 concept started as a four-door Jeep Wrangler Rubicon; carbon-fiber bodywork drops the weight. The windshield is laid back 12 degrees and matches a lower roof.
The Jeep Scrambler 392 concept features a newly released AccuAir air suspension kit developed for the Jeep Wrangler and Jeep Gladiator; it provides adjustable suspension lift, ranging from 1.5 inches up to 5.5 inches, which and can be custom adjusted on the fly with an in-cab controller or through long-range Bluetooth.
The rear quarter panel emphasizes the door aperture and wider rear flares. The bodywork also includes a new front fender flare and carbon-fiber hood with a tinted clear insert to spotlight the monster 392-cubic-inch engine. Custom bumpers, with the flares, add clearance for a larger tire and wheel combo—40-inch tires wrapped around custom 20-inch rims. The rims and tow hooks are finished in Brass Monkey paint. The exterior is Sublime green.
1978 Jeep Cherokee 4xe Concept
First introduced in 1974, the Jeep Cherokee (SJ) was a sporty, two-door version of the Wagoneer with bucket seats, a sports steering wheel, and racy detailing. A year later, the Wide-Track option was available with key upgraded features, including exterior stripes, larger tires, 3-inch wider axles, larger front and rear wheel cutouts, Dana 44 front and rear axles, and more creature comforts.
To pay homage to the Jeep Cherokee SJ, a first-of-its-kind vehicle with on- and off-road chops, the Jeep design team re-imagined it. The Jeep Cherokee 4xe concept began as a 1978 Jeep Cherokee, affectionately blended with a 2022 Jeep Wrangler Rubicon 4xe. The original Jeep Cherokee was intended to take the Jeep Cherokee SJ to the next level of performance, and that ethos rings true for this concept vehicle.
The original body was heavily modified; it is now a modern, electrified, off-road performer. Under the hood, the '78 Jeep Cherokee 4xe concept has the 4xe powertrain, with two electric motors, a high-voltage battery pack, and a turbocharged I-4 engine. An eight-speed automatic transmission is mated to a 4:1 transfer case to deliver power to 37-inch tires wrapped around custom 17-inch "slotted mag" style wheels.
The Jeep '78 Jeep Cherokee 4xe concept's custom interior features low-back bucket seats trimmed in leather. The rear bench seat was replaced with a four-point safety cage, and the rear cargo space houses a full-size spare tire just in case the trail gets a little too wild.
Jeep Wrangler Rubicon 4xe Concept
The exterior is done in an eye-catching, pink-hued paint with Gloss Black accents sprinkled across the front grille and headlamp bezels. The seven-slot grille was borrowed from the Jeep Wrangler Rubicon 20th Anniversary model, which sets off a custom hood graphic with a tone-on-tone print that fittingly ties into the interior theme. The capability was increased with the AccuAir suspension kit, 37-inch tires, 17-inch AEV wheels, and AEV front and rear bumpers and differential covers; the winch is from Warn.
Grand Wagoneer Overland Concept
The cross-trekking 2023 Grand Wagoneer Overland Concept leverages the Hurricane Twin Turbo 510 engine with 500 lb.-ft. of torque. It has high-end appointments inside and out, with a custom RedTail Overland Skyloft affixed to the roof. The carbon-fiber constructed Skyloft unfolds in around 10 seconds from the inside by simply pushing up with one arm.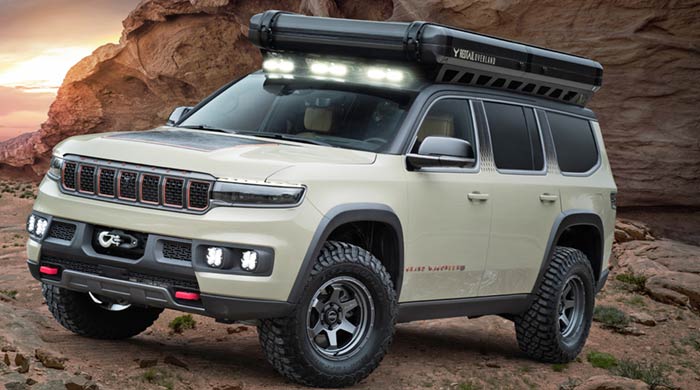 The design team removed the second- and third-row seats to get the Skyloft inside; the rear-most sunroof was moved to create a custom weatherproof entrance from the lower third-row seating area to the upper Skyloft level. The Skyloft provides a climate-controlled oasis complete with a sleeping space for two people and enough windows to soak in even the most panoramic views. To deal with mud or rain, the concept's truck bed-lined cargo floor handles any outdoor element with ease.
The Grand Wagoneer Overland concept is painted in Industrial Green with Gunmetal accents. A Warn winch on the front uses two sets of custom laser lights. A Rhino-lined roof has a subtle pop of orange color. Other touches are larger wheel openings and custom wheel flares, with a custom front chin and rear valance; the concept has 35-inch tires on 18-inch wheels for a natural 1.5 inch lift.
Jeep Wrangler Rubicon 4xe Departure 
The Jeep Wrangler 4xe Departure concept uses many items from the JPP by Mopar team. The spare wheel and tire mount  push the limits of available departure angles with 4×4 electrification.
Riding on 17-by-8.5-inch Vintage Bronze KMC Impact OL wheels and 37-inch BFGoodrich tires, the Wrangler 4xe Departure concept features a JPP 2-inch lift kit with Bilstein performance shock absorbers. Bilstein shocks use remote reservoirs to provide greater cooling capability for increased suspension travel and improved Jeep 4×4 off-road capability.
Protecting the grille is a custom tubular grille guard that folds down to create a bumper bench. Below the grille guard is a modified Rubicon bumper with a Warn winch. Custom flat-fender flares and wheel liners were meant for larger wheels and tires; the flares have removable daytime-running-light covers. This concept is the first 50-state legal fender flare with OEM DRLs.
The Wrangler 4xe Departure uses three concept header-mounted, 11-inch TYRI rectangular LED lights with custom brackets. Each light pivots out of the way when the windshield is folded down. Illuminating the ground at all four corners are custom rock lights. Custom rock rails with mounted slider tubes provide enhanced body protection and easier access to the elevated cabin, while JPP tube doors provide the ultimate open-air experience.
For added storage capacity, the Wrangler 4xe Departure concept features Molle panels that attach to the sport bar and the body tub to house additional trail-rated accessories that need a mounting point. The rear cargo compartment features Jeep Rubicon trail rails with tie downs to store additional accessories, and a signature JPP all-weather cargo mat.
At the rear is a custom tube gate with front- or rear-facing positions for the spare wheel and tire. When the spare is flipped out, the system is a bed extender. When the gate is turned toward the cabin, the rear overhang is improved for off-roading while the spare wheel and tire are safely secured. The convertible gate maintains a factory backup camera and CHMSL in either position.
The Dark Harbor blue exterior on the Wrangler 4xe Departure concept is contrasted inside with light Acorn Squash Nappa leather and Carnegie Hall brown Nappa leather, accented with warm off-white Serafil stitching. The Wrangler 4xe Departure concept also features a concept instrument panel accessory rail to mount phones or accessories for recording trail rides.
For the driver, stainless-steel JPP pedal covers include black rubber pads, adding plenty of traction to the accelerator and brake pedals. In addition, JPP door-grab handles provide easy entry and exit. The new JPP heavy-duty vinyl flooring system is available now for all production four-door (JL) Wranglers. With integrated Jeep floor drains it allows for easy interior cleaning.
Jeep Gladiator Rubicon Sideburn Concept
The Jeep Gladiator Sideburn concept, wearing Solar Flash Yellow, explores new tools designed for the burgeoning interest in off-road adventure. Powered by a Pentastar V-6, the Gladiator Sideburn concept has a JPP 2-inch lift kit with Bilstein shock absorbers that have remote reservoirs for  greater cooling. At all four corners, black HRE 17-by-9-inch FT1 six-spoke wheels ride on 37-by-13-inch BF Goodrich tires.
In front is a tubular grille guard that folds down to create an innovative bumper bench; under that is a modified Rubicon bumper with a Warn winch.
Responding to customer feedback, the JPP by Mopar design team installed a pair of removable 11-inch TYRI rectangular LED lights to each of the roof panels, suspended by custom brackets in the concept-light fairing. The light fairing is attached to each roof panel and includes a quick disconnect.
A concept JPP Gladiator Sport Bar, made from lightweight carbon fiber and steel, enhances the space between the cabin and the bed with bed steps on both sides and a mid-shelf with tie downs for portable storage totes. Each tote can be locked and secured via eight available tie-down loops. Four T-track rails on the upper portion of the sport bar enable easy installation of bike, kayak or other roof-mounted cargo systems.
The bed on the Gladiator Sideburn concept has integral Molle panels above and behind the wheel flares for storage. Integral RotoPaX containers were specially designed for liquid storage during off-road adventures. A modified Mopar bed-mounted spare tire carrier holds a 37-inch wheel and tire.
A custom tailgate carries the standard back-up camera and high brake light, with three Molle-panel openings and a floating Jeep badge.
The open-air feel of the Sideburn Gladiator concept is further enhanced by the available JPP half doors while JPP side steps and JPP grab handles assist with entry into the elevated cabin. The cabin is finished in Vienesse Relicate Nappa leather with Soul-stopper thread. Custom instrument panel bezels carry a 3D topographical map of Moab. Accents are finished in Atomic Silver matte paint.
Decorative, stainless-steel JPP pedal covers provide foot traction for feathering through the trails, and a concept JPP heavy-duty vinyl floor system (for JT Gladiator model) with integrated floor drains allows for quick interior hose-outs.