When the 2023 Dodge Challenger SRT Demon 170 was introduced last month, one of the key details of the limited edition, 1,025-horsepower muscle car was that it ran an NHRA-certified 8.91 quarter mile time. That makes it the quickest production road car sold in the U.S. market, beating the Tesla Model S Plaid by a healthy margin. However, at the time of the debut, Dodge did not provide a timeslip of the record run, and even though it was witnessed and certified by an NHRA official, some people won't believe that claim without seeing a timeslip.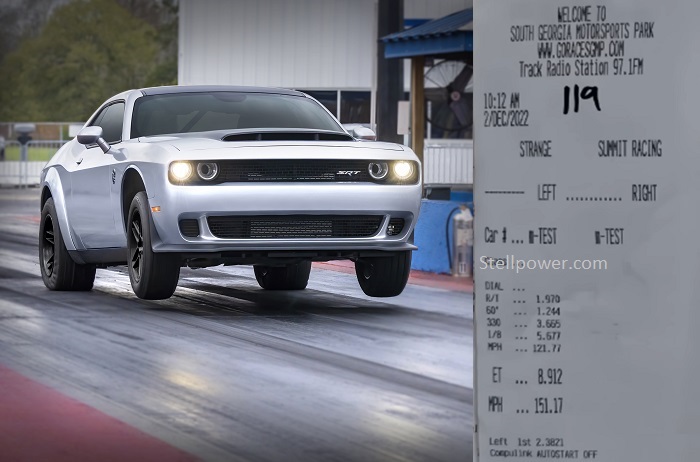 Well, here is the timeslip for the 8.91 record run turned in by the 2023 Dodge Challenger SRT Demon 170, provided by one of our contacts within the brand.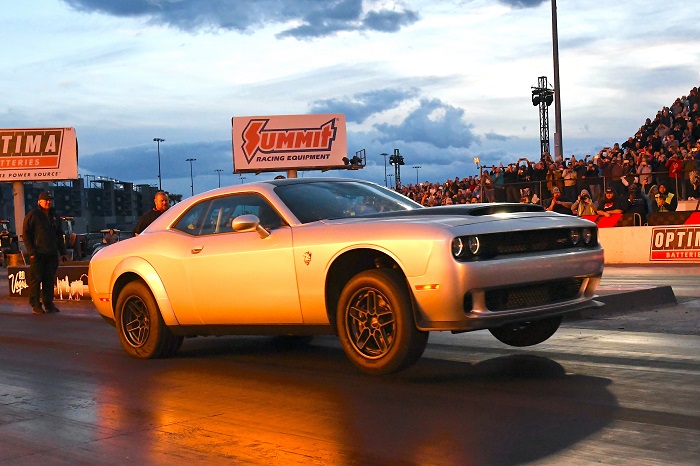 As you can see, the record run was made at South Georgia Motorsports Park on December 2, 2022, at 10:12am. We were initially told that on the day of the record run, the density altitude was around -1,200 feet, and in doing some research, we have found that when the team got to the track that morning, the DA was around -1,200 feet. However, based on air density information online, the actual DA at 10:12am at SGMP on December 2nd was only around -308 feet (44 degrees F). At 11am, it had risen to +90 DA and 48 degrees. That is markedly better air than when Dodge ran their record numbers with the 2018 SRT Demon.
As for the run itself, we can see that Dodge engineer Jim Wilder sat at the line for a bit after the light turned green, making sure that he and the Challenger SRT Demon 170 were properly prepared to make a perfect pass – leading to a very slow reaction time of 1.970, but that has no impact on the elapsed time. Some people aren't aware that reaction time does not factor into the E.T., so we wanted to point that out.
Once the Demon 170 got moving, Wilder piloted the newest Dodge Challenger to the 60-foot mark in just 1.244 seconds on the Mickey Thompson ET Street E drag radials, reaching the 330-foot beam in 3.665 seconds. The 8th mile trip only took the 1,025-horsepower Challenger 5.677 seconds with a speed of 121.77 miles per hour and Jim Wilder stopped the quarter mile timer with a world record setting 8.912 at 151.17 miles per hour.