On last week's media day for the 2023 Chicago Auto Show, the Jeep brand introduced their most capable SUV ever in the form of the Wrangler Rubicon 20th Anniversary Edition Level II. The name is a mouthful, but this package can be fitted to the hybrid 4xe model or the wicked 392-powered model and with features including a unique suspension system and 37-inch tires, this is the most capable product SUV ever offered by any automaker.
"Twenty years ago, a small group of enthusiastic Jeep engineers affectionately known as the 'Lunatic Fringe,' with grit and determination and their personal credit cards, designed, engineered and developed the most capable Wrangler yet – the Jeep Wrangler Rubicon – and overdelivered on everyone's expectations because they knew it was what Jeep customers wanted," said Jim Morrison, senior vice president and head of Jeep brand North America. "Today the Rubicon model represents about a quarter of overall Wrangler sales, with more than 700,000 sold worldwide, and include the electrified Rubicon 4xe, the best-selling and most capable PHEV in America. That same spirit of determination and ingenuity that led to the creation of the Wrangler Rubicon lives on in these new 20th anniversary special editions, which for the first time, bring available 37s to the Wrangler, providing unmatched capability."
20th Anniversary Edition Wrangler
The news in Chicago technically related to the entire Wrangler Rubicon 20th Anniversary Edition package, which is available for the legendary Jeep in 4xe or 392 form.
For the 2023 Jeep Wrangler Rubicon 4xe, the 20th Anniversary package starts on the outside with a half-inch suspension lift, leading to 32 inches of water fording and 11.2 inches of ground clearance, 33-inch BFGoodrich All-Terrain T/A KO2 tires on 17-inch beadlock capable wheels, a triple hoop grille guard, steel bumpers, heavy duty rock sliders, an integrated front off-road camera, a Gorilla Glass windshield, a "new interpretation of the iconic Jeep brand seven-slot grille" and unique badging. On the inside, the 20th Anniversary Wrangler 4xe comes with red and black leather seats, red leather trim on the instrument panel, auxiliary switches, all-weather slush mats, an 83-piece tool kit and more unique badging.
Of course, the Jeep Wrangler 4xe comes with the hybrid drivetrain, offering 375 horsepower and 470 lb-ft of torque, along with 21 miles of all-electric range and 49 MPGe. The efficiency and functionality has made the Wrangler 4xe the most popular hybrid in America, but with the Rubicon 20th Anniversary edition package, it is the most capable hybrid in America as well.
As for the 2023 Jeep Wrangler Rubicon 392 20th Anniversary package, it includes many of the same features inside and out as the 4xe models, but the V8-powered SUVs come with some extra off-road goodies. The 392 20th Anniversary Wrangler Rubicon comes with the Xtreme Recon package, adding 35-inch rubber on wider beadlock wheels, a 4.56 rear axle ratio, wheel flare extensions and the items needed to carry the bigger wheel on the rear gate. There is also an on-board air compressor, and the half-inch suspension lift on this model leads to 34.5 inches of water fording and 11.6 inches of ground clearance.
Like all 392 models, the 2023 Jeep Wrangler Rubicon 392 20th Anniversary editions pack 470 horsepower and 470 lb-ft of torque, allowing it to sprint from a stop to 60 in just 4.5 seconds, while covering a standing quarter mile in thirteen seconds flat.
The 2023 Jeep Wrangler Rubicon 4xe 20th Anniversary has an MSRP starting at $69,585 while the 2023 Jeep Wrangler Rubicon 392 20th Anniversary starts at $90,895, neither of which include the $1,795 destination fee.
Level II Performance
For those 20th Anniversary Wrangler Rubicon buyers who want the best off-road performance possible, the Jeep brand has teamed up with American Expedition Vehicles (AEV) to offer 150 units of the Rubicon 20th Anniversary Level II upfit. This package begins with an AEV 2.5-inch DualSport RT Suspension System with Bilstein 5100 shocks, AEV Steering damper and 37-inch BFGoodrich All-Terrain T/A KO2 tires on AEV 17-inch Savegre II wheels. The exterior also benefits from a new front bumper, rear bumper, front skid plate and tire carrier from AEV, along with a Warn VR EVO 10-S winch, 7000 Series off-road lights and Mopar performance wipers with integrated washer jets.
Each unit comes with an AEV vehicle build plaque, an off-road jack base, a ProCal SNAP module (to correct the speedometer) and, in 4xe models, a 4.56 axle ratio.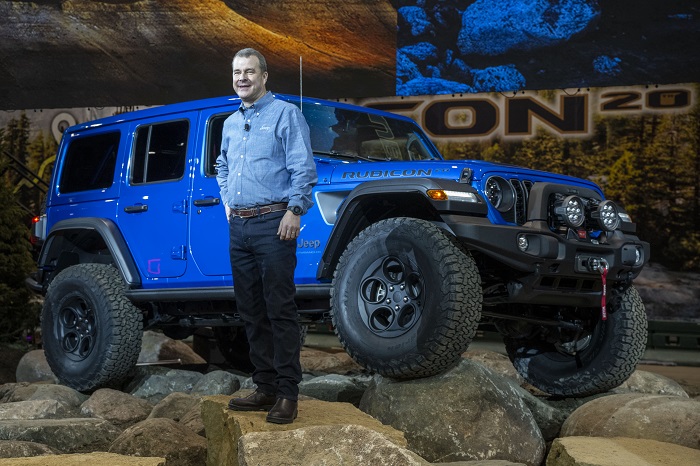 When equipped with the Level II upfit, these are the most capable Jeep Wranglers ever, with 14.2 inches of ground clearance, 37.1 inches of water fording, a 50-degree approach angle, a 33-degree breakover angle and a 43-degree departure angle.
The only downside to the Level II kit, other than the limited nature, is the price. For the hybrid, this package has an MSRP of $21,983 while the package for the 392 Wrangler costs $20,135 – and neither of those numbers include the $995 upfit logistics fee.
When you take the MSRP of the Wrangler Rubicon 392 20th Anniversary edition and add the Level II package, the upfit charge and the destination fee, it has an MSRP of $113,820. That is a pretty big chunk of change, but seeing as how Jeep fans are so hardcore, I have little doubt that plenty of these AEV-upfitted units will be sold.