With both Canadian plants scheduled for an extended downtime and conversion for new products, Stellantis has been pumping out massive quantities of Chrysler and Dodge cars to keep sales up while production is down. According to Cox Automotive,  Chrysler had over 130 days' supply of cars in inventory (mainly on dealer lots); both their vehicles are produced in Canada, minivans at Windsor, 300s at Brampton. That was many more cars than most brands had in stock.
Dodge had an also quite high 100+ days of inventory, likely for the same reason: while it also sells Durangos made in Detroit, Dodge's Charger and Challenger are both made at Brampton, which will shut down at some point this year for extensive renovations.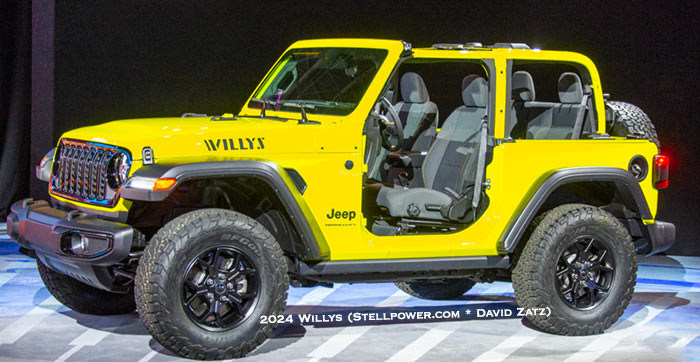 Jeep is a puzzler, with 120 days of inventory sitting out there, in many cases at high prices. The Cherokee is no longer being made, but customers can still opt for the Compass or Grand Cherokee. Some other vehicles must be clogging the car lots, and anecdotal reports point to the Wrangler and Gladiator, whose prices have not budged in the face of the  Bronco—and the upgraded 2024 Wranglers (pictured above). Some customers said that local dealerships are still marking up Jeeps on their lots, even as Jeep has added rebates ($2,000 cash on 2023 Wrangler 4xe, for example).
One Allpar member, valiant67, researched which vehicles were showing up as "most available" in Jeep's Build & Price site. While some believe that the Wagoneers must be stacking up, unwanted, the luxury Jeeps are still in short supply, suggesting they are indeed in demand. However, the former top of the line Jeep, the Grand Cherokee, seems to be in surplus mode; Canadian sales, which split the L from the two-row version, suggest that the long-wheelbase model is in high demand but the short wheelbase is not.
Stellpower's own check was a bit different. We checked on the models suggested by the end of the Cherokee, searching nationwide for in-stock vehicles (note: the search was done in late March, not in April).
Grand Cherokee – 26,862
Wrangler  – 16,783
Gladiator – 13,227
Compass – 7,216
Cherokee – 6,576
Renegade – 3,440
None of these numbers even come close to the 130-day supplies reported by Cox, which suggests that either the Build & Price system is wrong, or Cox was. Grand Cherokee had both the highest inventories, and the highest 2022 sales (in 2022, Jeep sold 223,345 Grand Cherokees and 181,409 Wranglers; the third best selling Jeep, the Compass, only hit 86,175). That said, the Build & Price system has been inaccurate in the past.
Volvo, Buick, and Alfa Romeo also had reported massive inventories in terms of days of sales; Ram sits at over 80 days, more than the other truck-only brand, GMC, or nearly-truck-only brand Ford. On the opposite end of the spectrum, Toyota, LExus, Kia, and Honda all have 30 or fewer days of inventory. Chevrolet and Cadillac were just about at the average.