Earlier this morning, we posted all the news we had on the Ram 1500 REV. Now, we can add a few more details from the launch—led first by Stellantis chief executive Carlos Tavares (at left, below), then by Ram leader Mike Koval, Jr.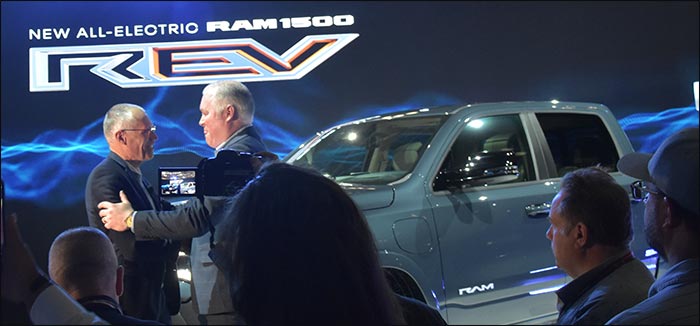 First, we saw the new Ram and Rev logos; and well found out that Carlos Tavares pronounces the STLA Frame platform as "Stella Frame." He said that all parts of Stellantis "move all together in the same direction and at the same pace."
The long-rumored extended range model will be shown later this year; it's called the Ram 1500 REV XR, so now it has a name. Also, since the current Ram REV production has already sold out, they've scheduled more production; you can reserve one at ramrev.com.
When asked if the Ram REV performed well in snowplow duty, Mike Koval responded that it had not been tested in that use case yet. The Ford reps said the Lightning was not checked out for plowing snow, incidentally; but Jeep reps said the 4xe would work fine as a snowplow.
In addition, a different Ram rep warned us, as we took the following image of the underside, that the production vehicle was likely to look very different underneath than this concept.
Finally, the new vehicle's electronics architecture has a name—Atlantis—and is proprietary to Stellantis.
As for impressions, the seats are molded to the driver and quite comfortable in the Tungsten model; even the rear seats are very comfortable.
The next launch will be Jeep.